Valcucine è entusiasta di sostenere l'edizione 2021 del World Architecture Festival, il più grande evento internazionale di architettura al mondo.
In risposta alle continue restrizioni ai viaggi COVID-19, gli organizzatori hanno dovuto annunciare che il festival non si svolgerà a Lisbona questo dicembre, ma sarà invece un evento interamente online.
Sebbene il programma di vaccinazione COVID-19 sia stato implementato con successo in molti paesi, ci sono diverse restrizioni e condizioni di quarantena in tutto il mondo che impediscono a molti dei finalisti del World Architecture Festival di partecipare di persona.
Uno dei principali vantaggi del Festival è il networking, la condivisione di idee e la creazione di nuove connessioni. Con una grande percentuale dei nostri finalisti impossibilitati a viaggiare, l'esperienza sarebbe notevolmente ridotta.
A seguito del feedback dei finalisti e dei partner, gli organizzatori hanno quindi preso la decisione di rendere il World Architecture Festival 2021 un evento digitale live e interattivo. La valutazione dal vivo continuerà a costituire una pietra angolare dell'edizione digitale WAF 2021.
L'evento digitale consisterà in tre giorni di programmi di conferenze dal vivo, premi ed eventi collaterali, con discorsi di importanti pensatori di architettura globali e personalità del settore, trasmessi in streaming esclusivamente ai delegati del festival.
World Architecture Festival include il più grande programma di premi internazionali di architettura al mondo, dedicato a celebrare l'eccellenza tramite presentazioni dal vivo a un pubblico di delegati di alto profilo e giurie internazionali.
I riconoscimenti tra cui "World Building of the Year", "Future Project of the Year", "Interior of the Year" e "Landscape of the Year" saranno giudicati dal vivo e trasmessi in streaming ai delegati del festival in tutto il mondo.
Con 18 sale digitali dedicate e 18 set di giudici internazionali, l'evento digitale WAF 2021 si propone di offrire il più ampio accesso alla più grande quantità di contenuti nella storia del festival; creando 40 giorni di programmazione esclusiva che sarà a disposizione dei delegati on demand fino a 90 giorni dopo l'evento.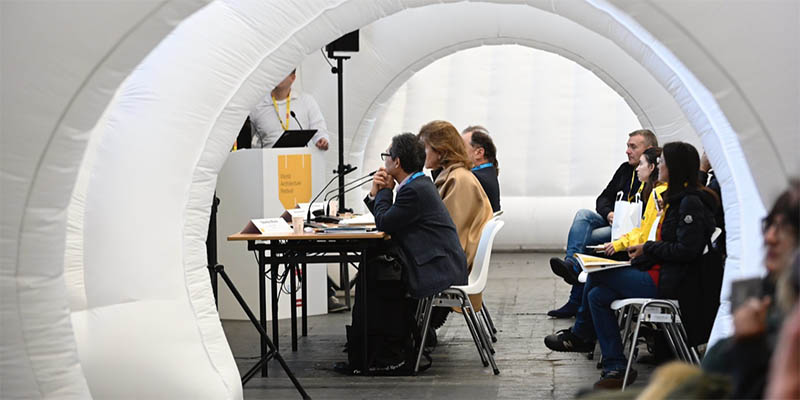 I giudici confermati della Super Giuria di quest'anno includono: Jeanne Gang, fondatore e partner di Studio Gang; Abdelkader Damani, Direttore Artistico del Frac Centre-Val de Loire | Biennale d'Architettura d'Orléans; Kim Herforth Nielsen, Co-Fondatore e Principal di 3XN Architects e Christina Seilern, Principal di Studio Seilern.
Tra i giudici internazionali vedremo alcuni dei più rinomati architetti e professionisti del design come Simon Allford Director di AHMM, David Basulto, Founder & Editor in Chief di ArchDaily, Rahel Belatchew Chief Architect & Founder di Belatchew Arkitekter, Olga Bolshanina Senior Partner di Herzog & de Meuron, Chris Bosse, Direttore di LAVA – Laboratory for Visionary Architecture, Alison Brooks, Principal & Creative Director di Alison Brooks Architects, Joseph Burns, Managing Principal di Thornton Tomasetti, Karen Cook Founding Partner di PLP Architecture, Nanne de Ru, Partner fondatore presso Powerhouse Company, Issa Diabaté, Partner presso Koffi & Diabaté Architectes, Nabil Gholam, Principal presso Nabil Gholam Architects, Hattie Hartman, Sustainability Editor presso The Architects' Journal, Francine Houben, Partner fondatore e Direttore Creativo presso Mecanoo, Ewan Jones, Partner di Grimshaw, Marc Koehler, Fondatore di Marc Koehler Architects, Nina la Cour Sell, Partner di Henning Larsen, Crist iano Luchetti, Adjunct Professor of Architecture, Bjarne Mastenbroek, Founding Architect at SeARCH, Tracy Meller, Partner at Rogers Stirk Harbour + Partners, Viviana Muscettola, Associate Director at Zaha Hadid Architects, Manit Rastogi e Sonali Rastogi, Co-founders at Morphogenesis, Joan Roig, socio fondatore di Batlleiroig Architecture, Bob Sheil, professore di architettura e design attraverso la produzione presso la Bartlett School of Architecture UCL, Fernando Sordo Madaleno, direttore del design presso Sordo Madaleno Arquitectos e Ingrid van der Heijden, co-fondatore, architetto di Civic architects ….e questo solo per citarne qualcuno!
L'edizione del World Architecture Festival 2022 è confermata a Lisbona dal 30 novembre al 2 dicembre presso il centro espositivo FIL.
Sfruttando le opportunità offerte dall'evento di quest'anno, il festival 2022 includerà elementi digitali integrati per formare un formato di festival ibrido, completamente in sintonia con delegati digitali e presenze in persona.