We are glad to invite you to the event in Valcucine Berlin with our partner Küchenatelier Piekarz for our 10 years together: you could discover the intelligence of Air Logica and the cratfsmanship of Vitrum Arte with our artisan.
On the 20th of November 2018, at 6.00 pm, Valcucine Berlin | Küchenatelier Piekarz, 10243 Berlin, Karl-Marx Allee 62 – RSVP info@kuechenatelier.com
Vitrum Arte, the art and beauty for a customised kitchen. We at Valcucine salvage authentic traditions that enhance the priceless value of manual skill and reinterpret the essence of "Made in Italy" expertise in a modern way.
Discover more on Vitrum Arte technique here >>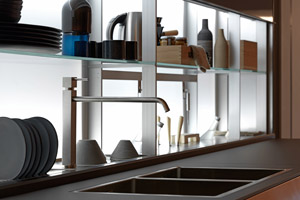 Special Features Air Logica System. We have created a unit with a new ergonomic and functional approach that makes it possible to exploit the entire contents of extra-deep base units. Enhanced, deep and spacious storage.
Discover more on Air Logica here >>