Valcucine is thrilled to support the 2021 edition of the World Architecture Festival, the world's largest annual international architectural event.
In response to continuing COVID-19 travel restrictions, organisers had to announce that WAF/INSIDE 2021 will not take place in Lisbon this December but will instead be an entirely online event.
Although the COVID-19 vaccine programme is being rolled out successfully in many countries, there are varying restrictions and quarantine conditions worldwide that would prevent many of WAF finalists attending in person.
One of the key benefits of World Architecture Festival is networking, sharing ideas and making new connections. With a large percentage of our finalists unable to travel, the experience would be greatly reduced.
Following feedback from finalists and partners, organisers have therefore taken the decision to make WAF/INSIDE 21 a live and interactive digital event. Live judging will continue to form a cornerstone of the 2021 WAF digital edition.
The World Architecture Festival 2021 digital event will consist of three days of live conference programmes, awards, and fringe events, with talks by leading global architectural thinkers and industry personalities – live-streamed exclusively to festival delegates.
WAF includes the biggest international architectural awards programme in the world, dedicated to celebrating excellence via live presentations to an audience of high-profile delegates and international juries.
Accolades including 'World Building of the Year', 'Future Project of the Year', 'Interior of the Year' and 'Landscape of the Year' will be judged live and streamed to festival delegates across the world.
With 18 digital crit rooms and 18 sets of international judges, the WAF 2021 digital event stands to offer the widest access to the largest amount of content in the history of the festival; creating 40 days-worth of exclusive programming which will be available to delegates on demand up to 90 days after the event.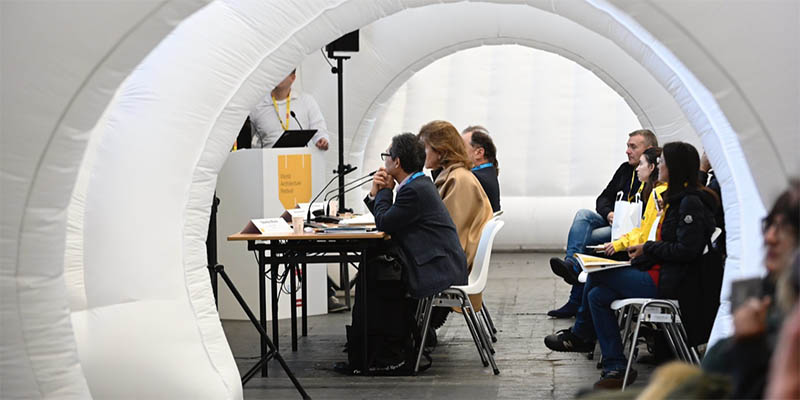 Confirmed judges on this year's Super Jury include: Jeanne Gang, Founding principal and partner at Studio Gang; Abdelkader Damani, Artistic Director at Frac Centre-Val de Loire | Biennale d'Architecture d'Orléans; Kim Herforth Nielsen, Co-Founder & Principal at 3XN Architects and Christina Seilern, Principal at Studio Seilern.
Amongst the international judges we will see some of the most renowned architects and design professionals such as Simon Allford Director at AHMM, David Basulto, Founder & Editor in Chief at ArchDaily, Rahel Belatchew Chief Architect & Founder at Belatchew Arkitekter, Olga Bolshanina Senior Partner at Herzog & de Meuron, Chris Bosse, Director at LAVA – Laboratory for Visionary Architecture, Alison Brooks, Principal & Creative Director at Alison Brooks Architects, Joseph Burns, Managing Principal at Thornton Tomasetti, Karen Cook Founding Partner at PLP Architecture, Nanne de Ru, Founding Partner at Powerhouse Company, Issa Diabaté, Partner at Koffi & Diabaté Architectes, Nabil Gholam, Principal at Nabil Gholam Architects, Hattie Hartman, Sustainability Editor at The Architects' Journal, Francine Houben, Founding Partner and Creative Director at Mecanoo, Ewan Jones, Partner at Grimshaw, Marc Koehler, Founder at Marc Koehler Architects, Nina la Cour Sell, Partner at Henning Larsen, Cristiano Luchetti, Adjunct Professor of Architecture, Bjarne Mastenbroek, Founding Architect at SeARCH, Tracy Meller, Partner at Rogers Stirk Harbour + Partners, Viviana Muscettola, Associate Director at Zaha Hadid Architects, Manit Rastogi and Sonali Rastogi, Co-founders at Morphogenesis, Joan Roig, Founding Partner at Batlleiroig Architecture, Bob Sheil, Professor in Architecture and Design through Production at The Bartlett School of Architecture UCL, Fernando Sordo Madaleno, Design Principal at Sordo Madaleno Arquitectos and Ingrid van der Heijden, Co-founder, architect at Civic architects to name a few.
The excitement around bringing World Architecture Festival 2021 to Portugal's capital city remains, and the WAF 2022 edition is confirmed to take place in Lisbon from 30 November to 2 December at the FIL exhibition centre.
Harnessing opportunities opened up by this year's event, the 2022 festival will include integrated digital elements to form a hybrid festival format, fully attuned to digital and in-person delegates.