Sketch, a multi-disciplinary architect's studio founded in 2006 by Johann Wolfschoon, looked after the restyling of Ambito store, based in the hearth of Panama City. This area is located at floor level of Midtown building, a dedicated space designed by Femur Arquitectura, which stands out for its bold design and strong modernist references. "The store, with its 400 sqm, has been completely renovated" says Carlos Kolster, Director of Ambito. "It's a goal that we are proud of, result of the company growth and its consolidation in the high-end furniture business, regardless of these difficult times".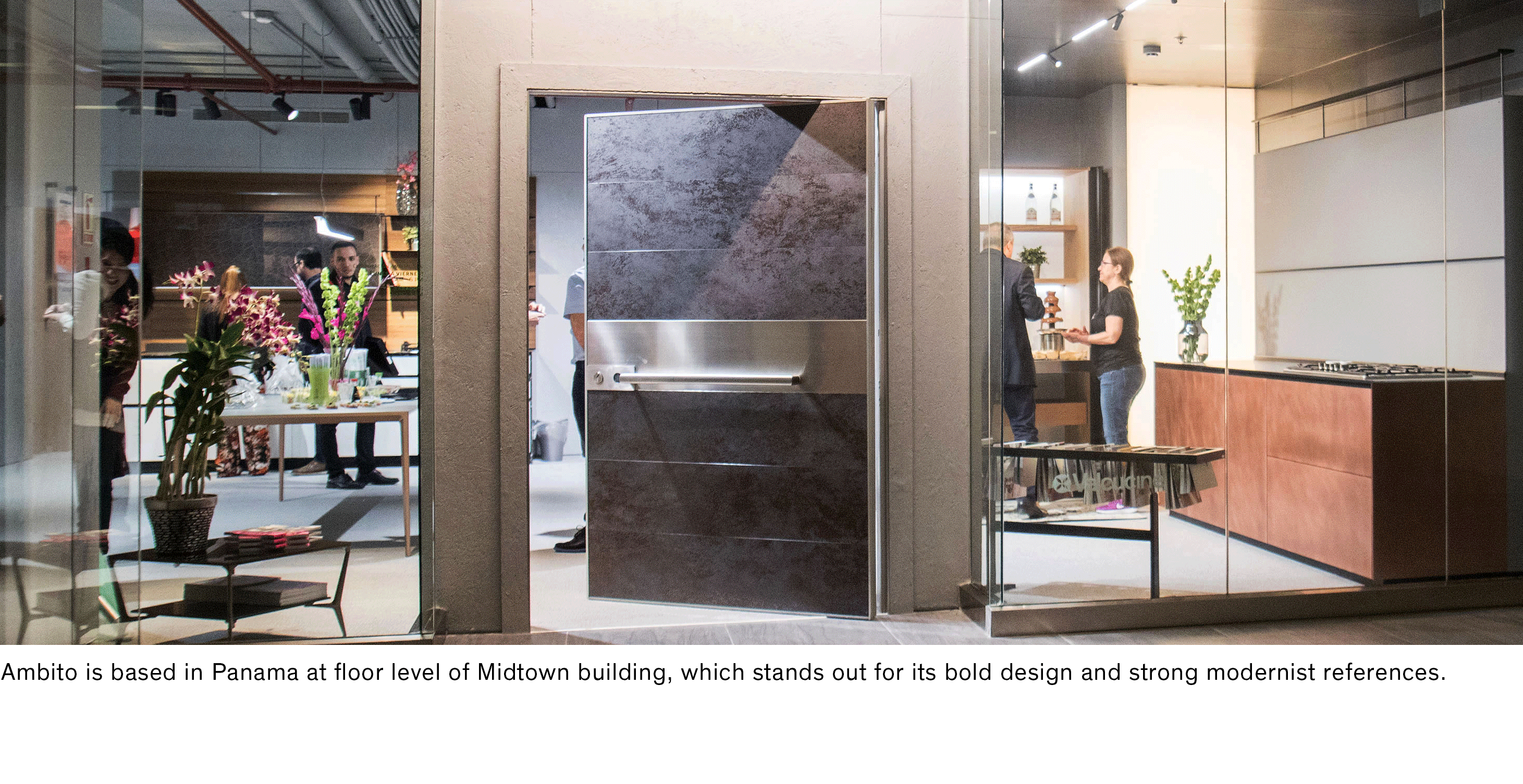 "The new set-up is focused on geometric precision, neat lines and plays with greyish tones" says Kolster "Everything is meant to have a specific purpose which is to show the space as a neutral canvas from which the quality and stylish design of the displayed solutions can be enhanced, amongst which Valcucine collections stands out".
Valcucine passion for materials and technological innovation
The new kitchen showroom dedicated to Valcucine shows the wide range of finishes and allows to live an extraordinary experience, thanks to the Special Elements, designed to provide maximum functionality in the kitchen.
Among the distinctive proposals of the brand, comes the Artematica kitchen, here displayed in the prestigious Distressed Copper finish. The use of Metal lights up the furniture with chromatic effects which change according to the angle and intensity of light. The choice of Matt Cement glass for both worktop and New Logica System doors creates a refined contrast with the copper, enhancing the evocative vibes of the metal finish.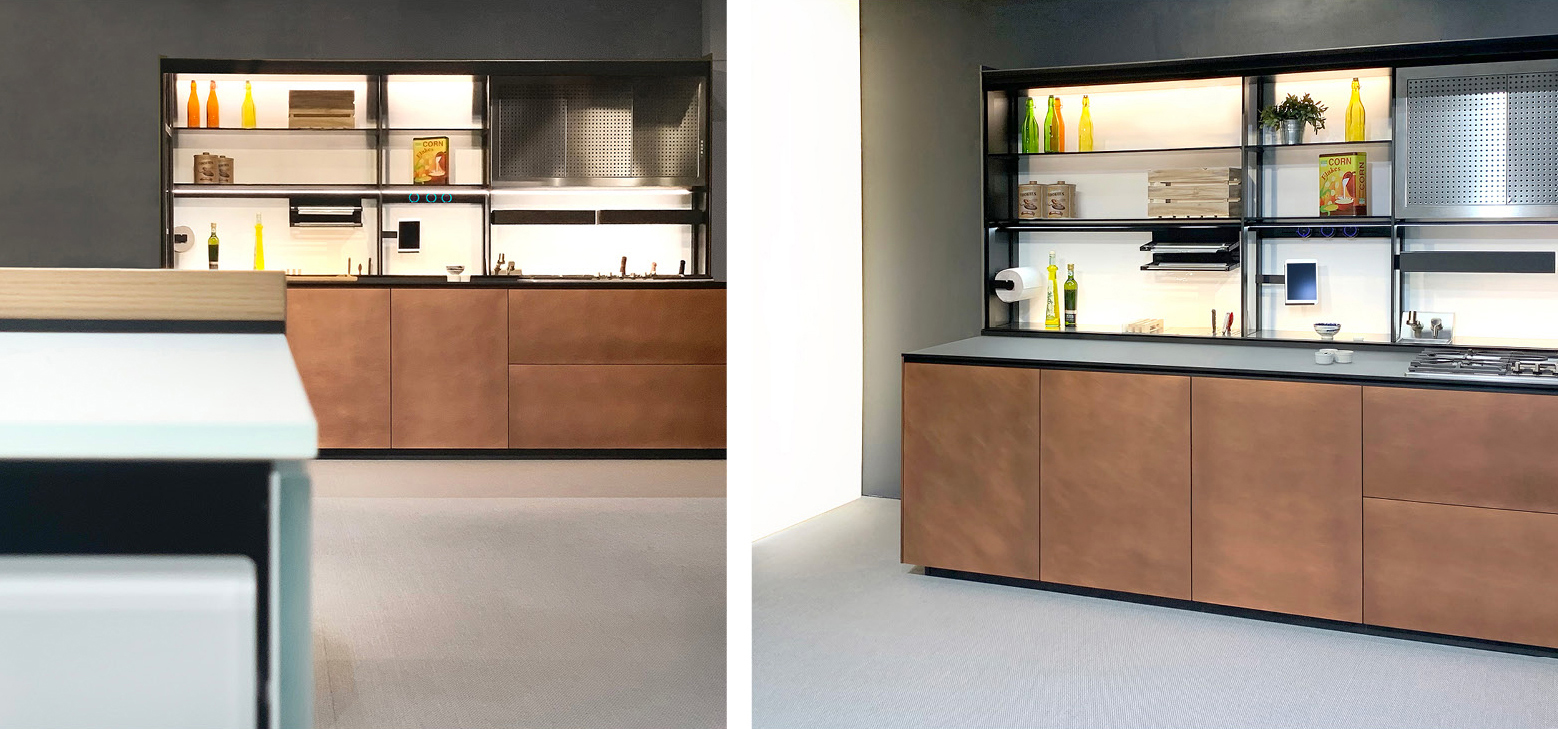 Thanks to New Logica System, top lift-up doors and downward sliding bottom doors open and close just by using one finger, to reveal and hide when desired, all the back panel equipment.
Watch the New Logica System video
The materials mix distinguishes the Forma Mentis kitchen as well. The choice of the Angel Skin finish, here displayed in White, provides a soft velvet effect to the surface by making it extremely pleasant to the touch. The Carnic Grey marble and Tactile Walnut of the wall panelling accentuate the research of the textured aspect.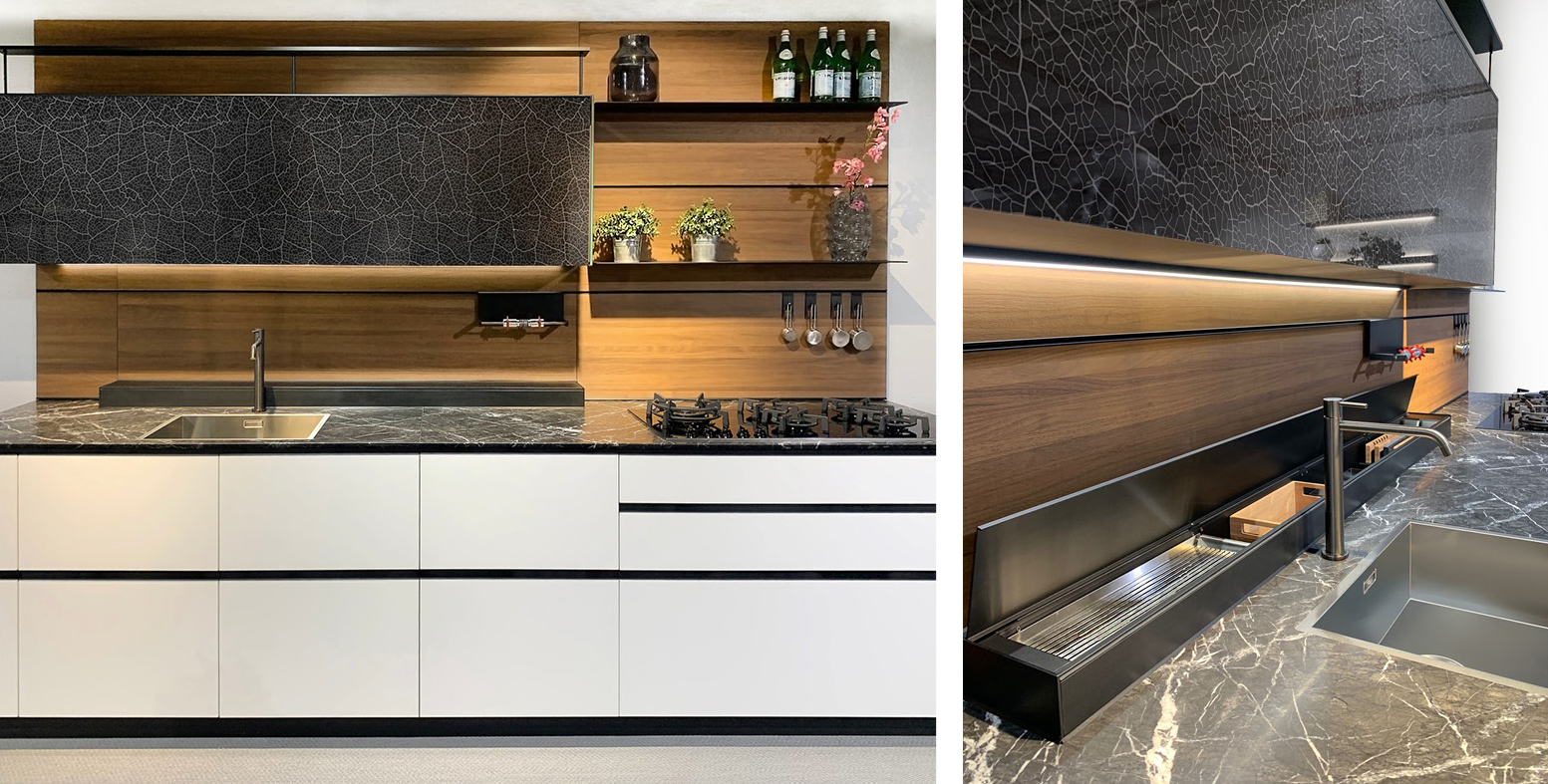 The Latus wall unit, enriched by the elegant Butterfly wing pattern on Gloss Graphic Vitrum, ensures a lightweight and silent opening: a touch of the hand and the door opens upwards and stays in place for all the time needed.
To add up the kitchen functionality, Logica Theca comes to play: the evolution of the equipped back section is here displayed in the H8 version. Logica Theca is a storing element, completely usable which can be organized in absolute freedom and personalized with a wide range of accessories created to suit all needs.