Share
On the slopes of the Dolomites only a few kilometers away from Feltre, in a place that Virgil would have defined as locus amoenus, our partner L'Ambiente has been involved with the design of a recently renewed country house kitchen.
The restoring process focused on enhancing Genius Loci, the "soul of the place" by bringing it to a new life and representing it in a contemporary way. This was an operation achieved through precise design choices as respect for traditions, selection of materials, and constant dialogue with the surrounding landscape.
The outcome is a country house with a well-defined identity where original details as visible ancient wooden beams, brick floor and stone walls enhance the surrounding environment which tells us tales about a long gone time.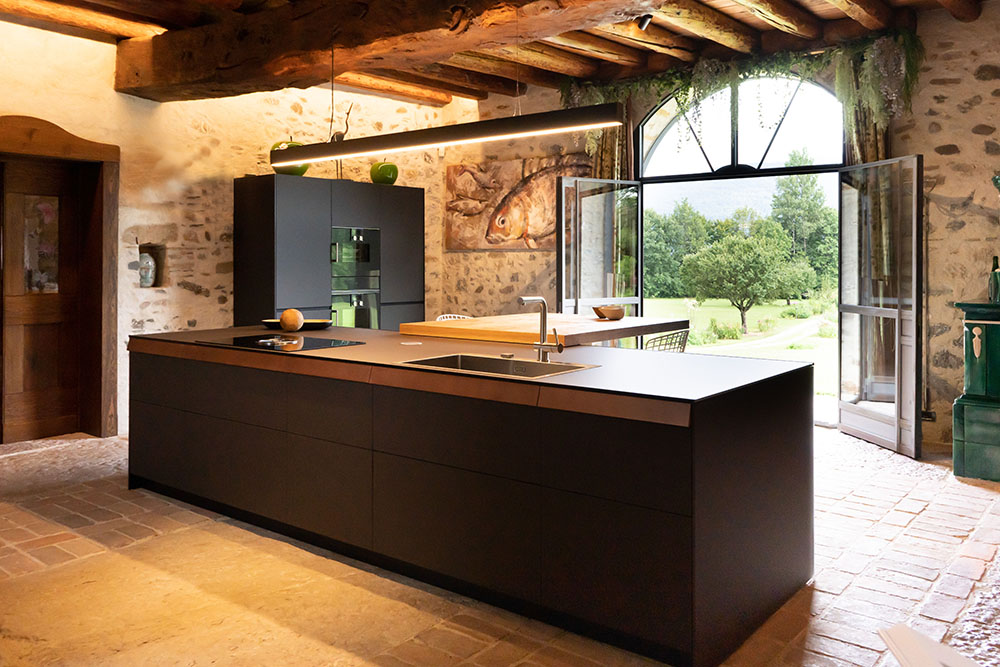 Genius Loci: the inner essence of a place
Through the latin word Genius Loci we make reference to the natural and supernatural entity related to a place, worshipped in the Roman religion. Lately, the expression has become common in everyday language, but mainly, architecture wise, where it refers to a specific approach to an environment based on the knowledge of its historical, cultural, physical and identity related features.  It is therefore a matter of capturing the inner essence of each place to give it resonance through an architectural intervention.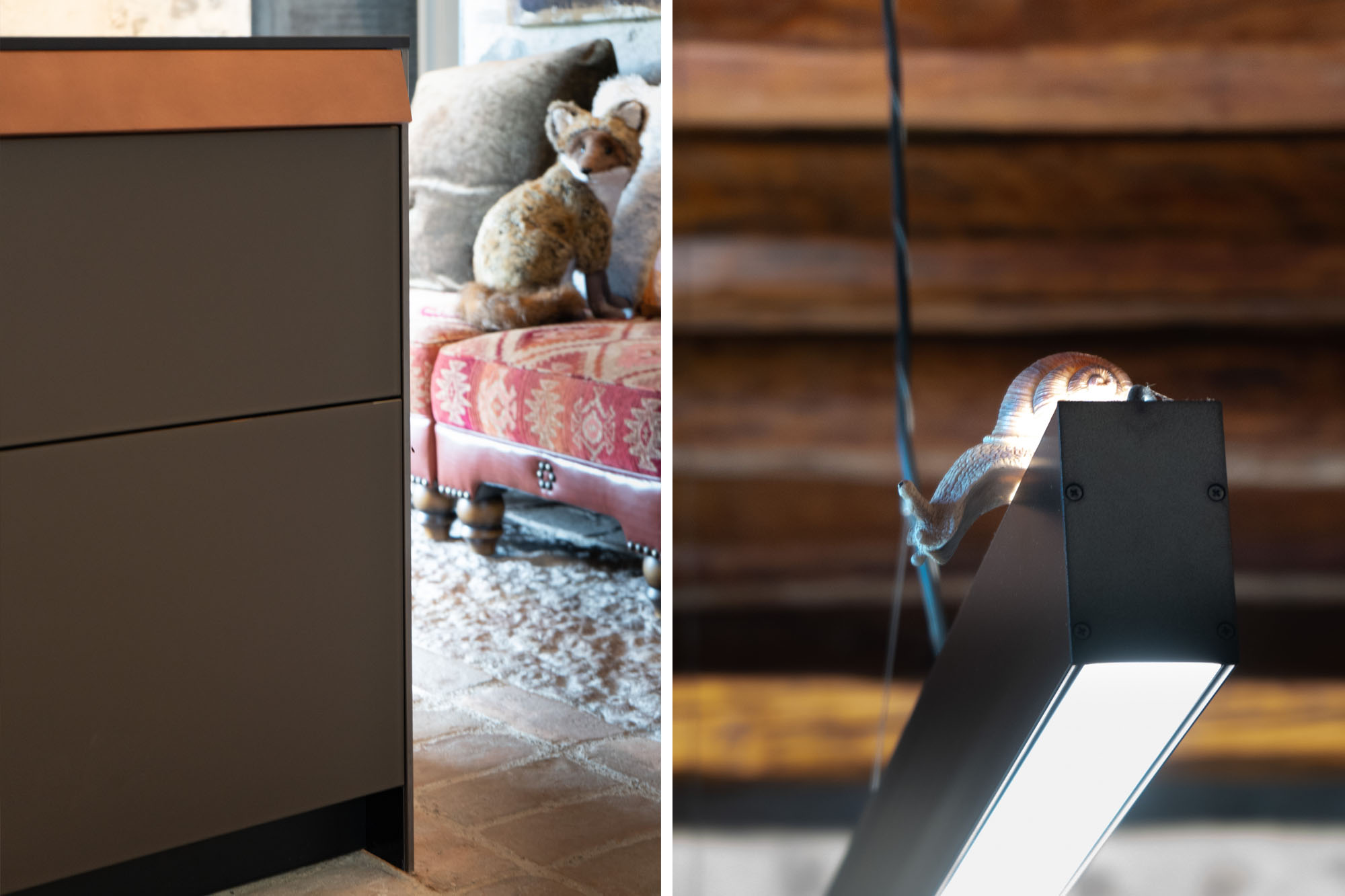 According to this interpretation – which we fully agree with – architecture and interior design must respect the place, fit into it, and listen to its Genius Loci.
This does not mean that in one specific place can only exist one single architecture, but more so that in order to live in one place, you need to identify yourself in it and understand its deepest meaning.
Genius Loci kitchen becomes the core of personalization
This concept has been taken up by the designer Gabriele Centazzo with the Genius Loci kitchen which, just like ancient "secretaries", keeps a secret, intimate place in its drawer. A drawer which is not just a functional space, but it becomes precious and capable to adapt to each place features thanks to the different handcrafted personalization.
Precious metals, inlays, engravings, beveling and mosaics are the essence of this collection.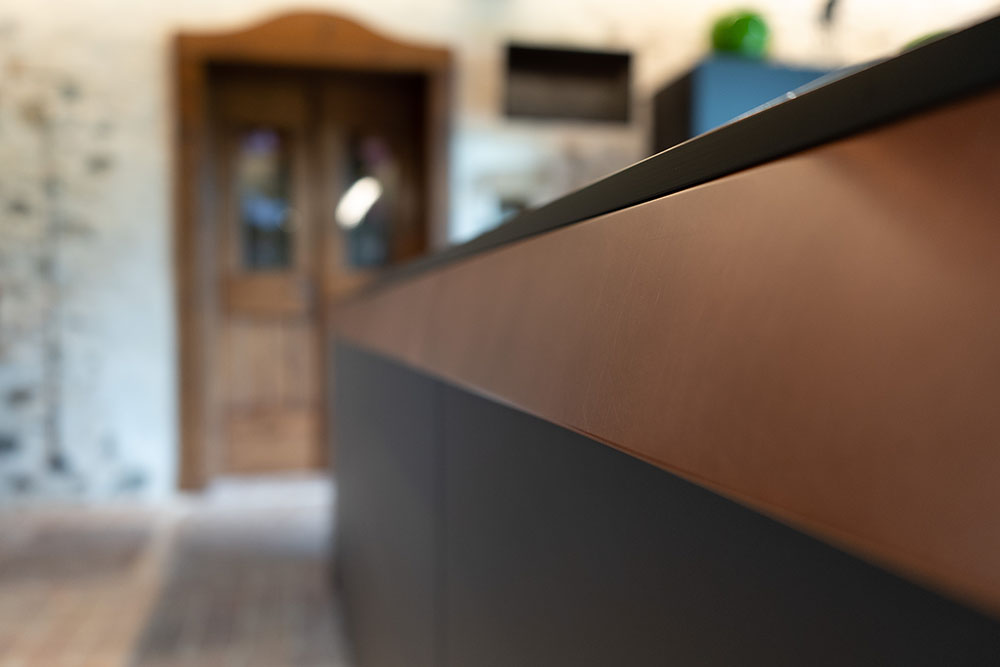 The Genius Loci kitchen design by L'Ambiente wants to be a strong yet firm presence within the soul of the place.
Just like ancient country houses textured materials play a key role: the refined contrast between stone and wood reflects in the kitchen by combining glass and copper in a well-balanced, timeless mix.

Space develops around a central island entirely made in glass overlooking the terrace and the surrounding garden. The perfect continuity of the base units finishes, worktop and end panels defines a pure volume whose surface is traversed by a series of precious slanted metal drawers. Copper creates a refined contrast with glass, displayed in the warm black version, and it gives back a cutting-edge impact, just like a cut on a canvas.
Besides promoting conviviality, the island solution has been designed to be an operative and functional area: it accommodates cooktop, sink and it has working base cabinets on both sides that upgrade the storing space. The composition complements itself with the breakfast bar and towers run which recalls the island finish.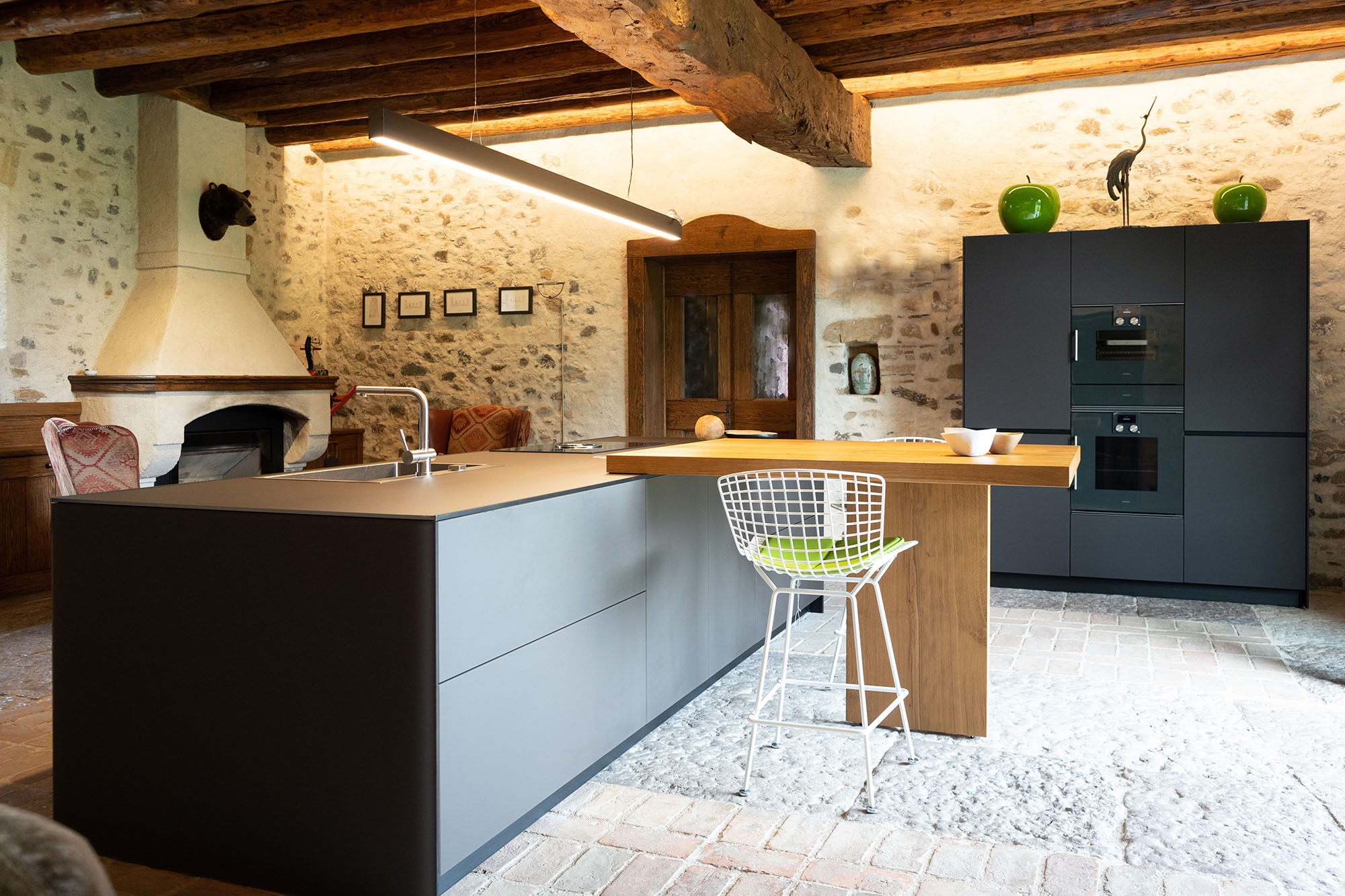 Thanks to an accurate and attentive design approach, the Genius Loci kitchen fits in harmoniously into an environment full of history, a country house where each detail, starting from wooden furniture to ancient objects, reminds us about a typically Italian story and "know-how".
Share