Last Thursday 24, we had the pleasure of presenting to a selected group of journalists the preview of our new LEED v4.1 mapping and the new approaches for a more sustainable built environment with the extraordinary participation of Alessio Mirabella, Sustainability Senior Consultant at Arup, Laura Tiburzi, BIM Manager at Mario Cucinella Architects, and Laura Pighi, Chief Program Officer at Habitech.
The economic model that drove architecture until today is linear. Aligned with the take-make-waste extractive industrial model, the built environment sector is a major consumer of natural resources.
It is responsible for over 35% of the EU's total waste generation [source: EU – A new Circular Economy Action Plan]. The leading cause of waste, and a large culprit for emissions, is the construction and demolition industry. It is also the world's largest consumer of raw materials, with about 3 billion tons annually and it is responsible for up to 40% of our CO2-emissions.
Both our hosts witnessed that we must shift to a circular economy. We have to regenerate, give ecological gain to neutralize the ecological loss of the last 50 years. Green or sustainable is no longer enough. We have to move toward a regenerative economy, along the whole supply chain: from the architecture firms to the manufacturers.
Thus, in the logic of "connecting the dots" Valcucine also presented its own mapping path and the LEED v4.1 contribution map.
What does LEED mean?
LEED® Leadership in Energy and Environmental Design is a building certification system applied in more than 150 countries worldwide. It is currently the world's most widespread verification system for green architecture. More than 170,000 square metres are certified every day all over the world. In 2021 alone, more than 1,000 LEED-certified projects covering more than 14 million square metres were carried out in China, followed by Canada (250 buildings), India (146), Korea (42), Spain (100), the United Arab Emirates (73), Brazil (89), Italy (106), Mexico (47) and Taiwan (31). Source: www.usgbc.org
The LEED system can be applied to any building and interior space and it provides a framework for the design, construction and management of ecological and healthy, highly efficient and cost-effective structures. The certification is a symbol of excellence and indicates, with third-party validation recognised by the international market, that a building has achieved high levels of energy-environmental sustainability, protecting people's quality of life and health.
Milan is one of the top five cities in Europe, together with Madrid, Stockholm, Frankfurt and Istanbul, for the number of sustainable buildings designed, constructed and managed according to the international LEED standard.
We can therefore say that Valcucine products and product components that meet the LEED v4.1 performance criteria contribute to the credits required for LEED certification. (Product 'A' contributes to meeting LEED Credit 'X').
Valcucine kitchens can therefore satisfy through their own contribution matrix up to 12 credits in 5 different credit categories: Water Efficiency, Energy and Atmosphere, Materials and Resources, Indoor Environmental Quality, Innovation.
Excellent examples of the mapping work are the collection and provision to specifiers of a great deal of information on the energy consumption of the appliances the company offers (Energy and Atmosphere), the systems to measure water consumption (Water Efficiency), the collection of all the environmental declarations of the product components and the extension of FSC certification (Material and resources) to all wood particle board and wood fibre panels, the production of kitchens such as Artematica Vitrum with its glass doors and Invitrum base units, 100% glass and aluminium (Indoor Environmental Quality) and which are also 100% recyclable and decomposable at the end of their life cycle, or the creation of inclusive design systems to improve and facilitate interaction with the "cooking machine" such as V-Motion (Innovation).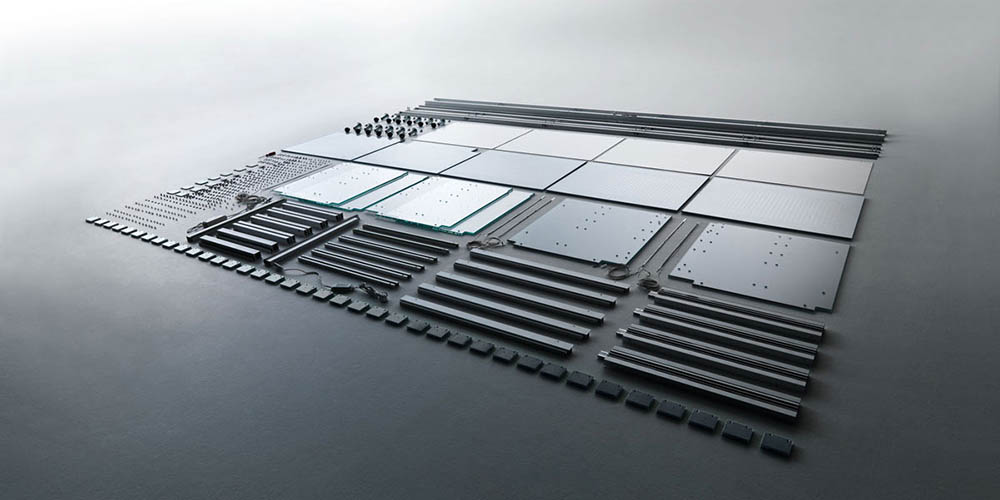 Invitrum base unit system design by Gabriele Centazzo | 100% recyclable 100% disassemblable at the end of the life cycle
In addition to accountability, another declared objective of this mapping is the sharing of processes within the company as well as the involvement and empowerment of people, to consider this competence as a company "core".
The LEED contribution matrix also becomes a sort of "rosetta stone": a useful tool to share the values of sustainability within the company and also to dialogue externally with architects, sharing product specifications and technicalities.
Milan Design Week 2022
At the Milan Design Week 2022, Valcucine presents the project "Sustainability beyond Space and Time": a series of appointments aimed at affirming over forty-year of commitment to sustainable production and at celebrating the new LEED v4.1 mapping, in collaboration with all the players contributing to the sustainable design process.
The new versions of Artematica and Riciclantica will be presented as well as other novelties such as shelving with integrated special elements, the repositioning of materials and finishes and a programme of finishes for architecture.
Paraphrasing the famous quote by Ernesto Nathan Rogers in "From the city to the spoon", Valcucine has involved various architectural firms in a virtual journey, curated by Archivibe in collaboration with Fuorisalone, through some LEED-certified buildings designed by well-known architectural firms such as ARUP, Barreca & La Varra, GBPA Architects, Mario Cucinella Architects, One Works, Park Associati, Progetto CMR, Scandurra Studio Architettura, Skidmore Owings Merril and Tectoo.
In the Valcucine Milano Brera showroom, the LE3DERS project will be presented: an exhibition, curated by Archivibe, of architectural models by well-known international architectural firms such as 3XN, Craft, GCA, HENN, HPP, Rafael de la Hoz and Schmidt Hammer Lassen. The building's models will be in 3D version and visualised through an Augmented Reality experience using Instagram filters.
Today more than ever we need to be 'accountable', that is reliable, transparent, competent, trustworthy and measurable, especially when it comes to sustainability.
Valcucine has therefore renewed the mapping of its products with the LEED v4.1, the protocol which certifies sustainable architecture, in collaboration with Greenmap which is the Habitech's programme for industry, leading national centre for sustainable building, renewable energy and innovation, recognised by the Ministry of University and Research.