Sustainable architecture is a solution essential to reversing the impact of the building industry in terms of carbon emissions (40% of total CO2 emissions).
The building and demolitions industry is actually the main cause of waste. It produces more than 35% of the total volume of waste generated in the EU and it is also the world's biggest consumer of raw materials, at around 3 billion tons per year.
Milan is among the top five cities with the highest number of sustainable buildings in Europe, alongside Madrid, Stockholm, Frankfurt and Istanbul.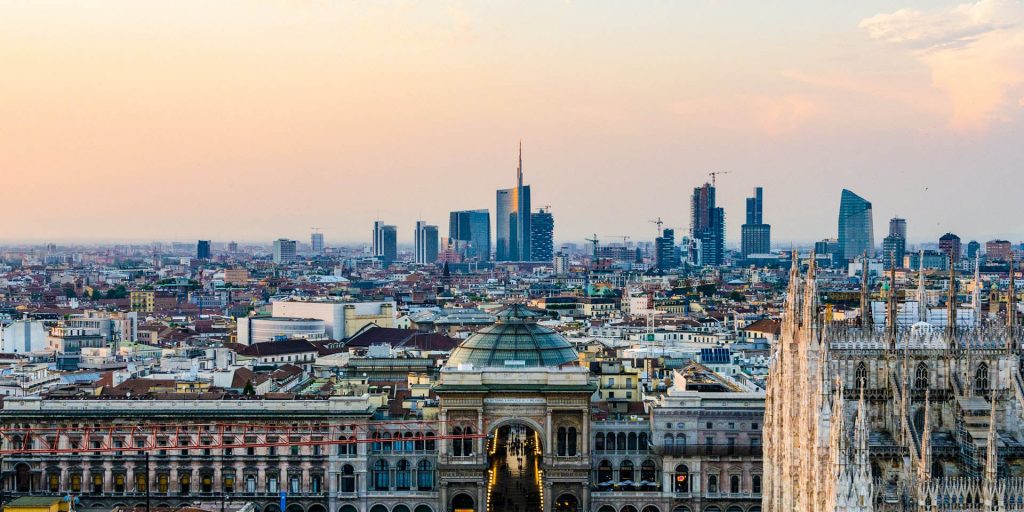 What more suitable occasion is there to celebrate this Italian design and sustainability achievement than Milan Design Week 2022?
Including hotels, offices, schools and residential buildings, the LEED-certified work carried out in the city of Milan is a fine example for other cities to follow, both in Europe and Italy, and shows that better buildings can create a better quality of life.
To celebrate the LEED v4.1 mapping of our kitchens, to coincide with Milano Design Week 2022, we are presenting "LEED Buildings in Milan" in collaboration with Archivibe and Fuorisalone.it, taking design and sustainable architecture enthusiasts on a voyage of discovery of some of the most interesting LEED-certified buildings, an international certification applied in more than 160 countries around the world, which delivers a framework for healthy, efficient, low carbon consumption, low cost, environmentally-friendly architecture.
This voyage will showcase buildings designed by prominent architecture firms such as:  Skidmore Owings Merrill, Barreca & La Varra, Mario Cucinella Architects, GBPA Architects, Tectoo, Progetto CMR, Park Associati, Scandurra Studio Architettura, One Works, Asti Architetti.
Corso Italia 23, Skidmore Owings Merril
Designed by Gio Ponti in 1958 as the Allianz Milan office, Corso Italia 23 has been transformed into the new Italian Deloitte office by Skidmore, Owings & Merrill (SOM). This Platinum and Well Gold-certified design sits on a 49,000 m2 site accommodation around 5,000 people.
This will be one of Italy's first zero emissions buildings, with more than 1,100 m2 of new green spaces and it will have custom-designed Smart Ready functions with real-time monitoring of environmental conditions. Work will be completed by December 2023.
LEED Platinum
Where: corso Italia, 23

Orefici 33, Barreca & La Varra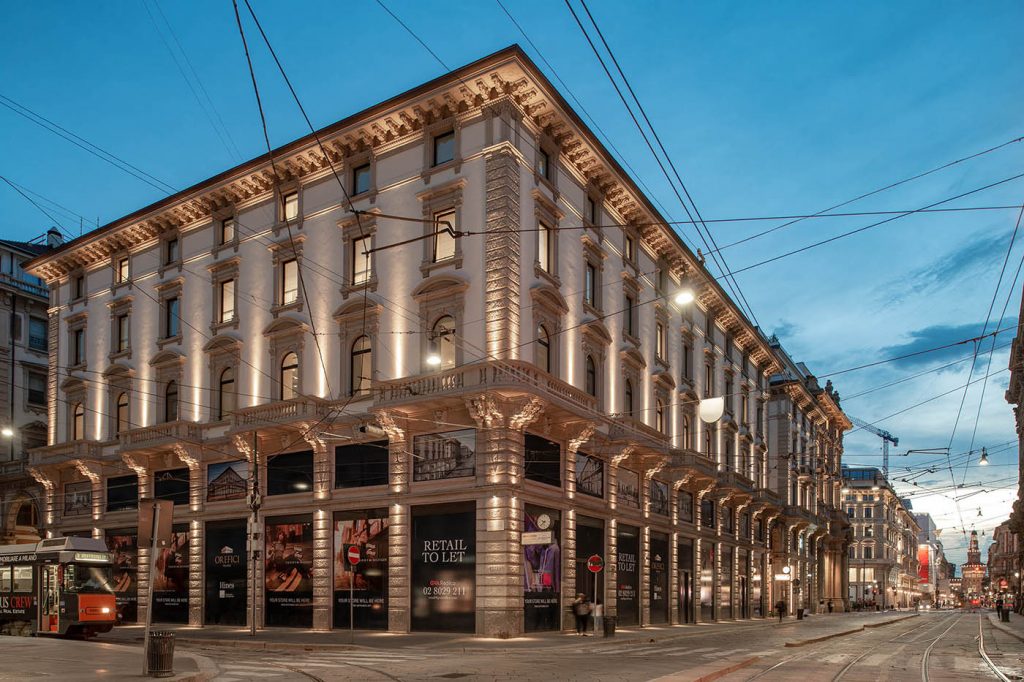 Halfway between the Duomo and Castello Sforzesco, the late nineteenth century building complex in Via Orefici is home to the Borsa, the headquarters of major banks and the central post office, amongst others. In recent years, these have been joined by a series of retail spaces that have transformed Piazza Cordusio. It is no longer a business centre, but more a thriving commercial hub between Piazza Duomo and the bars and shops of Via Dante.
The complex was recently redeveloped by Barreca & La Varra in a precisely-defined intervention, designed to improve the liveability and functionality of the two buildings, without overwhelming their identity.
LEED Gold
Where: corner via Cantù and via Orefici


Torre Unipol, Mario Cucinella Architects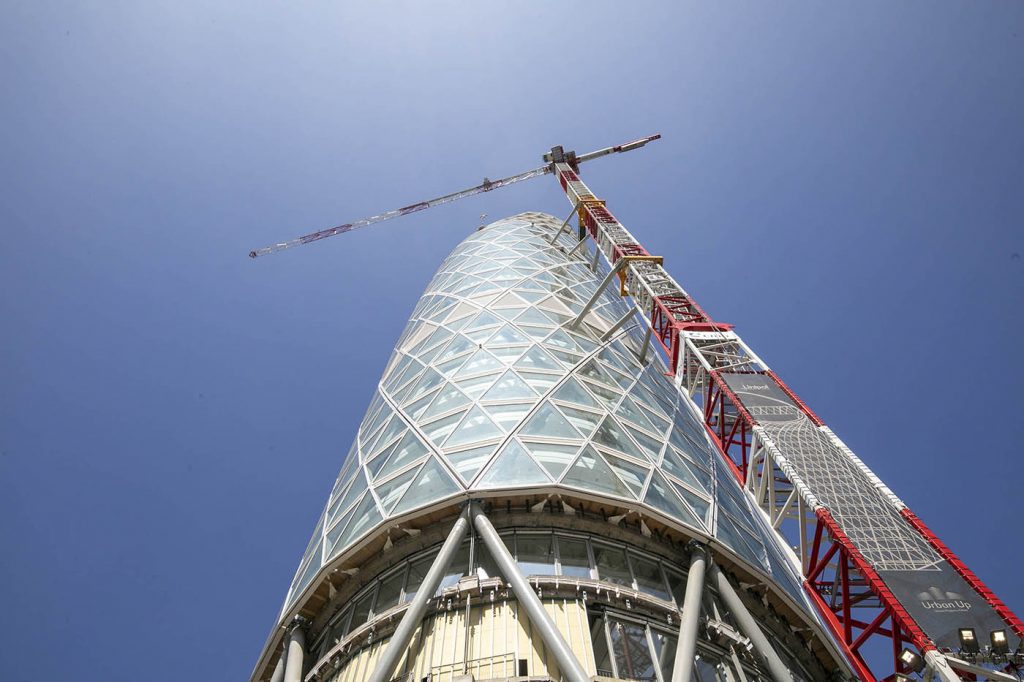 This is one of the examples of new sustainable architecture that will dominate the Milan skyline. The elliptical form of the tower designed by Mario Cucinella Architects, currently under construction, allows the building to fit into an already heavily-built up setting.
The tower occupies a 31,000 m2 site and has 23 floors above ground and 3 underground floors, reaching a height of almost 120 metres, topped by a panoramic greenhouse-roof garden which will host public and cultural events. This "green breathing space" will also help regulate the tower's interior temperature.
According to M.C. , the building will "breathe" dynamically via a double skin façade, and hot and cold air currents will circulate freely, helping to considerably reduce energy consumption.
A large atrium with a 75 metre ceiling on the tower's South side forms the main entrance and a climate buffering space, capable of exploiting exposure for energy purposes.
LEED Gold
Where: via Melchiorre Gioia, piazza Gae Aulenti


Amazon, GBPA Architects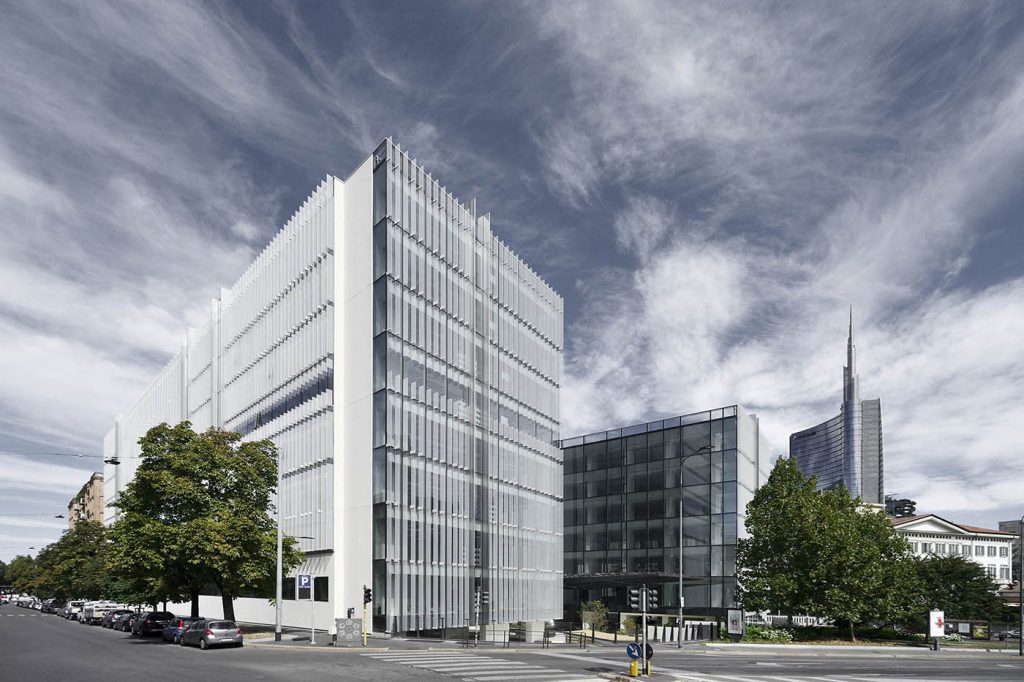 The former Tecnimont site, with its distinctive, thickly interwoven, anodized aluminium panels and glass façade, built like a sort of coat of armour, is one of Milan's iconic Seventies buildings. Situated in the Porta Nuova business district, it has been fully redeveloped, becoming the Italian HQ of Amazon with a design by GBPA Architects.
In continuity with the original design, the architects' studio redesigned the exterior with a glass façade featuring glass fins that increase permeability and light diffusion inside.
LEED Platinum

Where: viale Monte Grappa, 3/5


VP22, i Boschi Nascosti, Tectoo Architects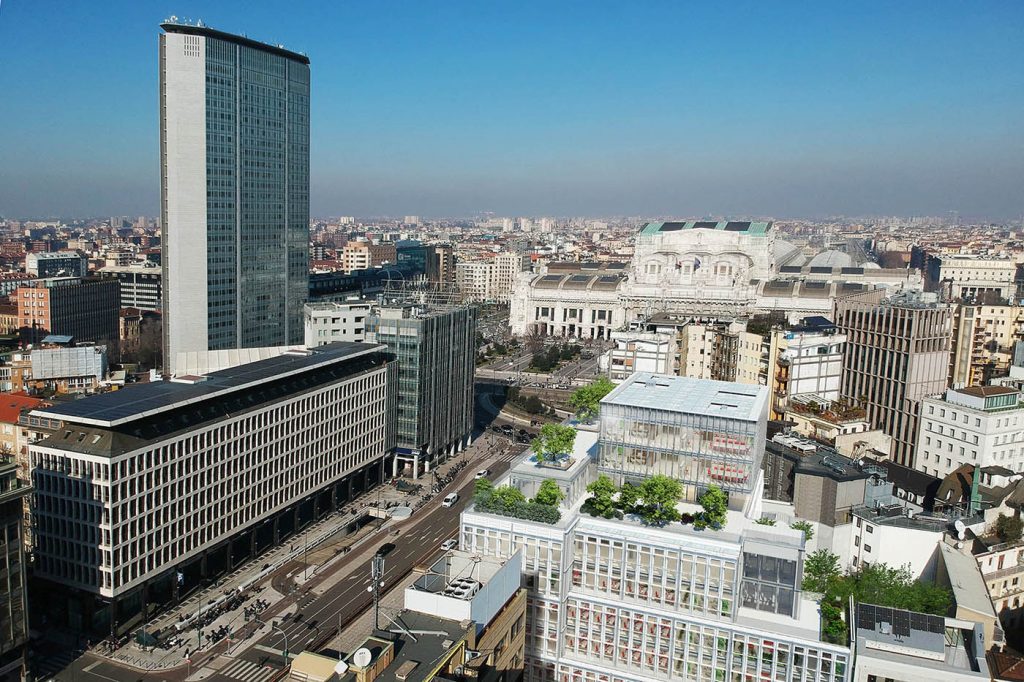 Promoted by AM Holdings S.p.A., VP22 by Tectoo Architects is a demolition and reconstruction project of three Sixties-era buildings in the area between Milan Central Station and Piazza della Repubblica. The new sustainable complex stands on an 18,000 m2site with more than 60 car parking spaces and an 800 m2 internal garden with numerous tall trees.
A special feature of the VP22 building is the façade consisting of UHPC (Ultra High Performance Concrete) elements treated with a product that eliminates the principal pollutants in air. This solution, completely novel in the property development field, gives the building functions equivalent to those of a forest.
LEED Platinum
Where: via Vittor Pisani, 22


The Sign, Progetto CMR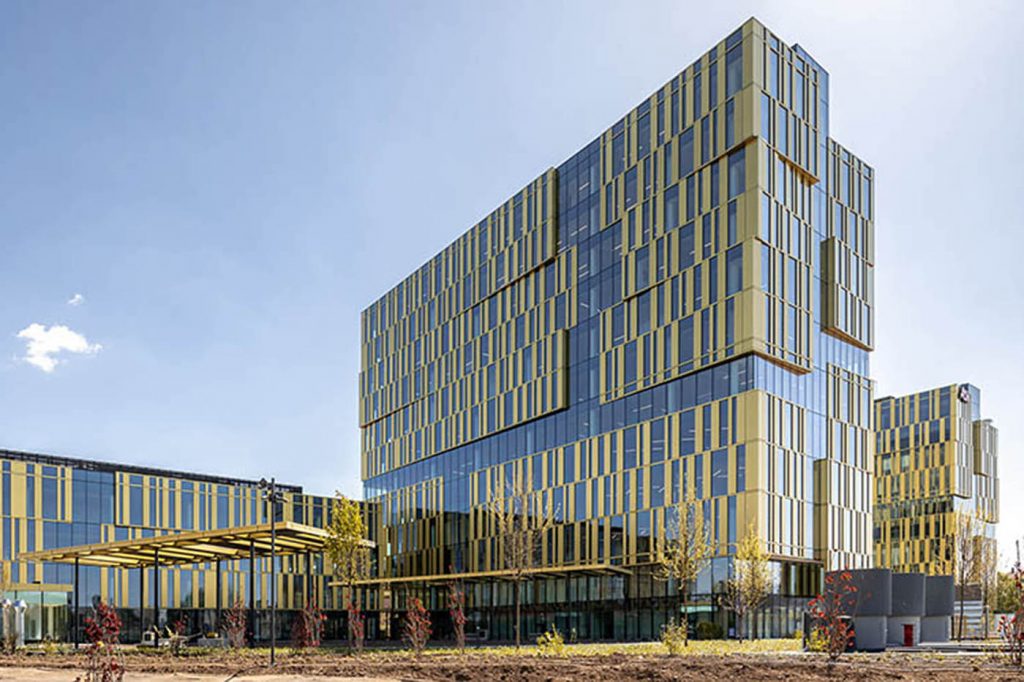 The Sign by Progetto CMR is the innovative Covivio business district: a prevalently corporate complex of three buildings which contributes to tracing out the new city skyline. This is a redevelopment of a former Fifties-era industrial site in the urban area of South West Milan.
The project is a restoration of the former Vedani foundry, turning it into a new corporate complex of three buildings with nine, eleven and three floors above ground respectively, a public square and green spaces on a site measuring over 27,000 m2. The three industrial buildings will share one stunning, strongly contemporary façade, a series of gold stripes alternating with transparent glass in a bright, vibrant sequence.
The Sign will be home to the new L'Oréal Italia headquarters. Work is due to finish by the end of 2024.
LEED Platinum
Where: via Schievano


Brisa 5, Park Associati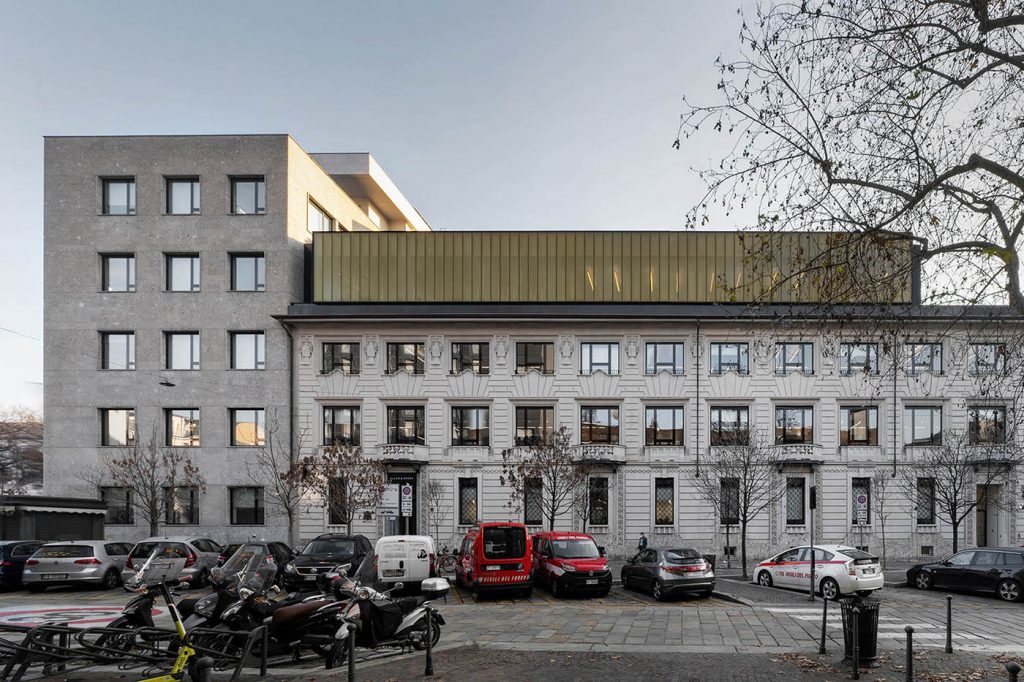 The Brisa 5 redevelopment project by Park Associati, completed in 2020, is in the important archaeological area of Milan, home to the Ruins of the Roman Imperial Palace and the 16th century Gorani Tower and involves both blocks of a building designed by the architect Piero Portaluppi.
The structure interprets the existing construction, exploiting its complexity and respecting the original style features. The addition of a contemporary element creates a connection with the stylistic discontinuity of the two existing buildings
The complex consists of two blocks, respectively three and five storeys high. Their styles differ, being designed almost twenty years apart, and they are now occupied by two tenants. The floor added to the lower building detaches from the style of both buildings, highlighting their different historical periods.
LEED Gold
Where: via Brisa, 5


White Moon, Scandurra Studio Architettura
A building gleaming with eye-catching light, just like the moon. Whitemoon by Scandurra Studio Architettura embellishes the Bicocca district with its airy presence boasting an open, slender structure.
The regeneration of the complex, acquired by Kryalos, in the industrial North East of Milan, involved the construction of a dynamic, transparent building with a contemporary classic design that combines functionality and exceptional design value.
The project was executed by the architects' firm run by Alessandro Scandurra, involving the building in the forms, materials and energy systems: a new roof section added and the remaining covered surface with a terrace looking out in a panoramic view over the city.
LEED Gold
Where: viale Fulvio Testi, 280


Urban Office Campus, One Works
Just a short walk from Castello Sforzesco, the regeneration project of a functional, LEED Gold-certified energy efficient group of three buildings housing a university campus. The project is being developed on a 7,500 m2 site.
The One Works Studio adopted a series of intelligent design solutions for each of the buildings based on their position and geometry. These include introducing light-filtering blind systems with sensors, natural ventilation systems and an innovative passive façade designed to improve heat efficiency of the buildings all year round.
LEED Gold
Where: via San Giovanni sul Muro, 9


Cortile della Seta, Asti Architetti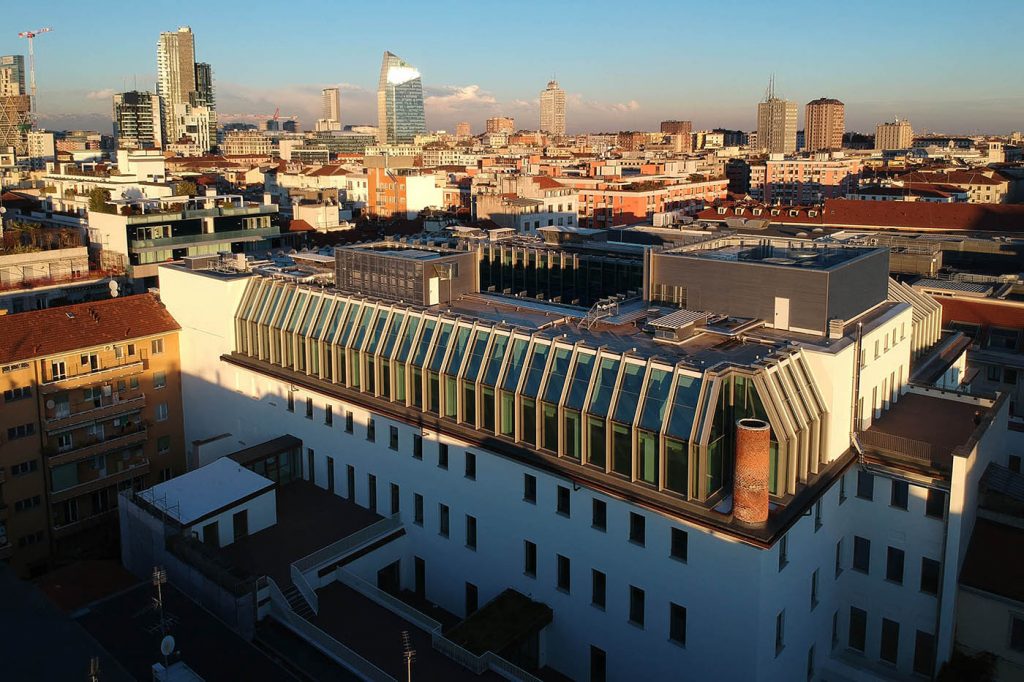 Asti Architetti are redeveloping a sizeable slice of the city of Milan for retail and offices with a project defining a large section of the historically significant block between Via Moscova and Via Solferino in the Brera Design District: the Società Cooperativa delle Sete site had been converted into a bank.
The Asti Architetti project is today redesigning the street-facing façade, the large, covered courtyard and the new glazed roof.
The office fulfills ZEB (Nearly Zero Energy Building) criteria, using more than 50% renewable energy and is LEED Gold certified.
LEED Gold
Where: Via Moscova, 33
Under the patronage of Green Buildings Italia