On Thursday June 30th we attended an educational architecture tour in London during London Festival of Architecture 2022.
The initiative, organized in collaboration with Archivibe, has been selected amongst the preferred "Student Focus" events of the architecture festival.
On Monday, July 1st, it was the turn of the business meetings with the architectural firms that allowed us to present our philosophy focused on sustainability and innovation together with the wellbeing, long life and ergonomic characteristics of our kitchens.

The architecture educational tour in London was designed to provide young architects, interior designers and students of architecture the opportunity to experience and learn about how responsible architects are committed to strengthen their working practices to create architecture and urbanism that has a more positive impact on the world around us.
An extremely interesting and formative experience on the last day of the London Festival of Architecture 2022 which featured some of the most prominent architectural firms in London, all ranked in "Best architecture firms in the UK" of Archivibe: Apt, Jestico + Whiles, Pollard Thomas Edwards Architects and WilkinsonEyre.
Apt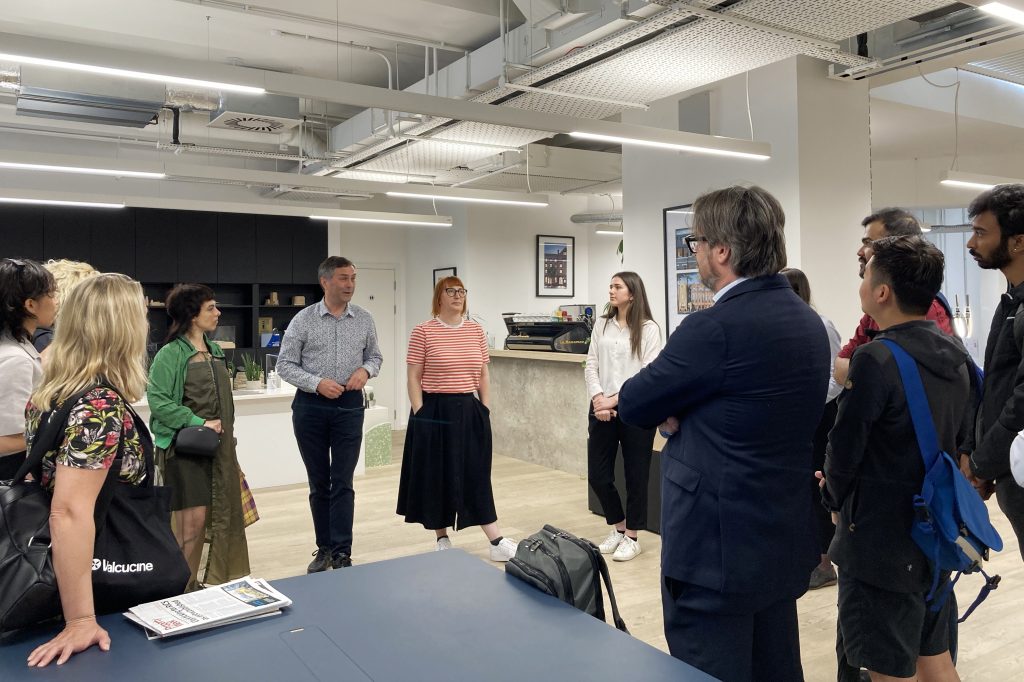 Welcome speech of Robin Partington and his team.
Founded in 2009 by Robin Partington who welcomed us on arrival, Apt has a wealth of experience designing and delivering innovative buildings across multiple sectors including workplace, housing and placemaking projects that are richly detailed and diverse in character, celebrating the culture, customs and heritage of their setting, reinforcing a sense of identity and place.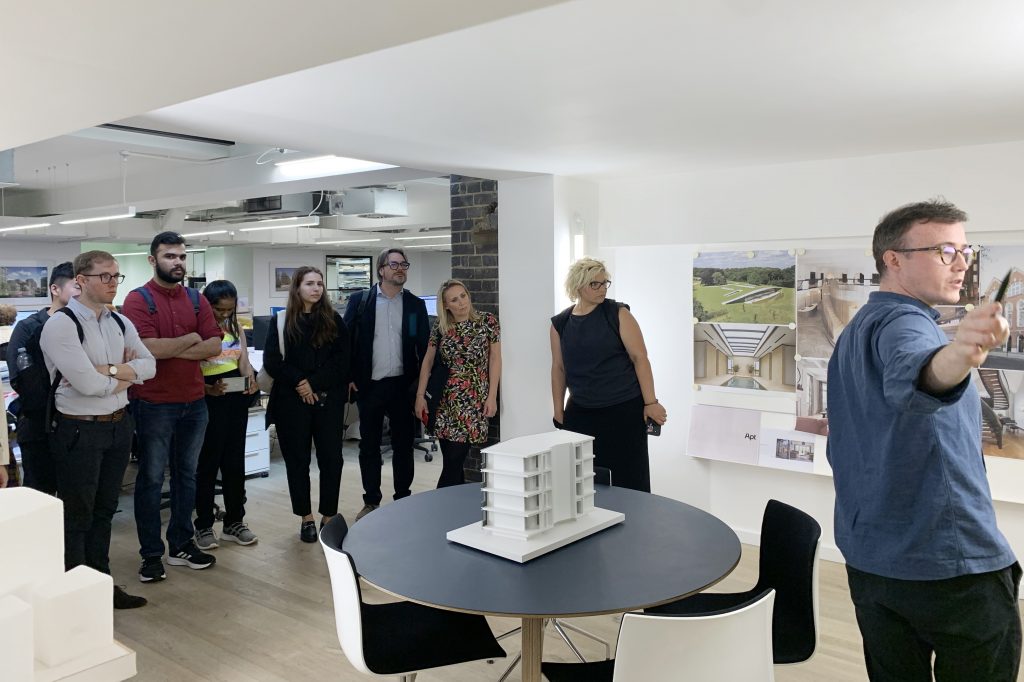 Presentation of the main projects by Jonathan Cardy of Apt.
Apt becomes an "Employee Ownership Trust" in 2018 reinforcing their identity as a design focused collective, diverse in skill and backgrounds who share a passion for progressive architecture and innovative solutions.
Jestico + Whiles
Founded in 1977 and based in London and Prague, Jestico + Whiles is one of the first architectural practices to form an employee owned trust, confirming the great attention to the wellbeing of its employees.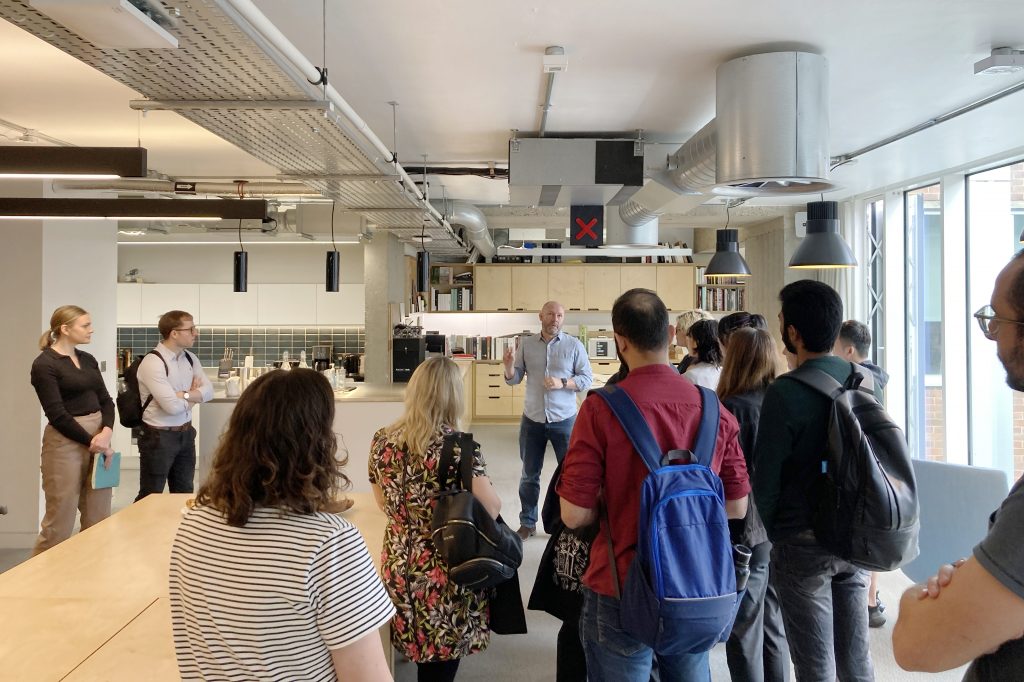 Tour of the studio with James Tatham, director of Jestico+Whiles.
The talented team of over 100 people has completed major projects throughout the UK and across the world. Director James Tatham and his team presented to our group of architecture students and architects their latest most interesting projects.
Jestico + Whiles have proven expertise in excellent, sustainable design across a wide range of sectors: housing, hotels, education, offices, retail, research, transport, and cultural facilities. Many of these are within schemes involving major urban regeneration, refurbishment of historic buildings or low energy designs.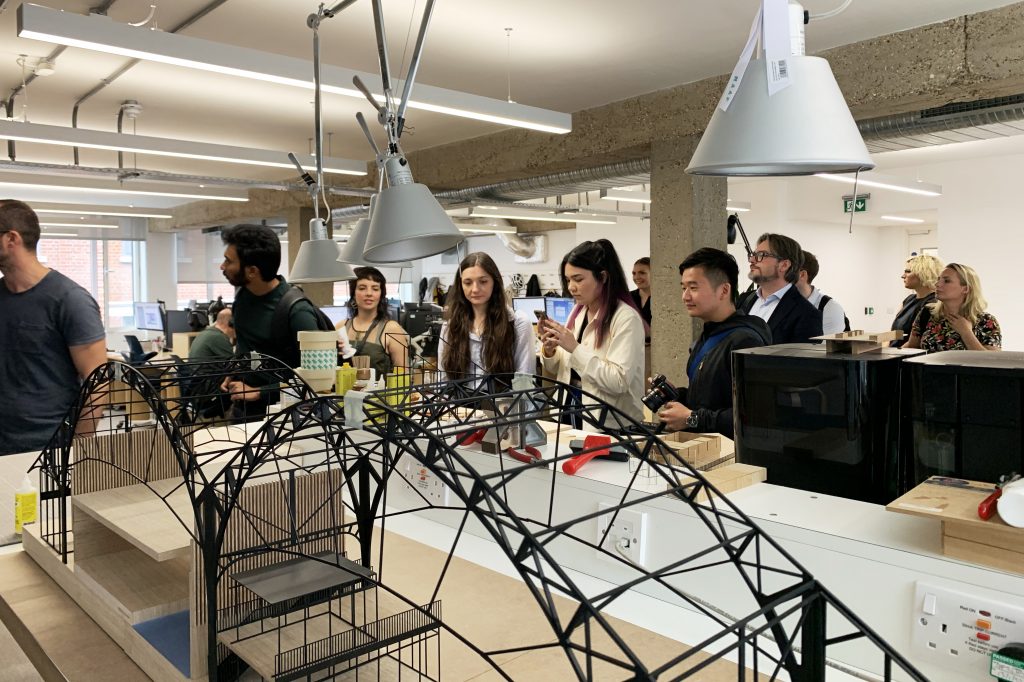 Visit of Jestico+Whiles models lab.
Pollard Thomas Edwards
Pollard Thomas Edwards is an architecture practice specialising in the design of homes, neighbourhoods, public and mixed-use buildings throughout the United Kingdom.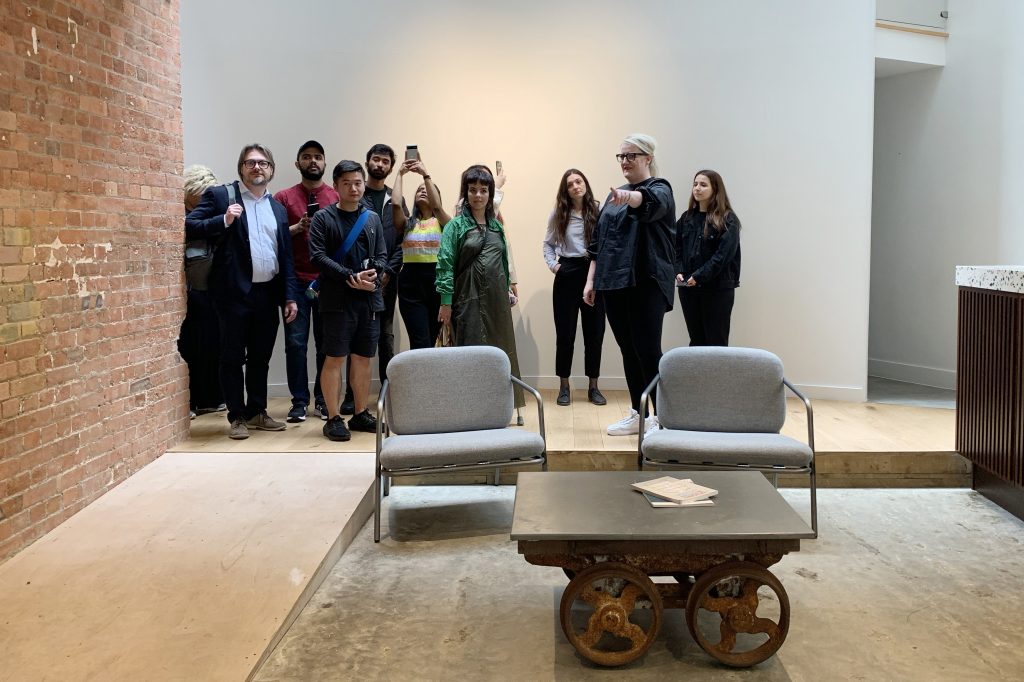 Pollard Thomas Edwards Architects tour with Marion Mac Cormick, architect and partner.
Using the full range of skills at their disposal, from architectural and urban design to masterplanning, property development and community engagement, the team of 150-plus professionals are dedicated to enhancing the towns, cities and villages in which we work.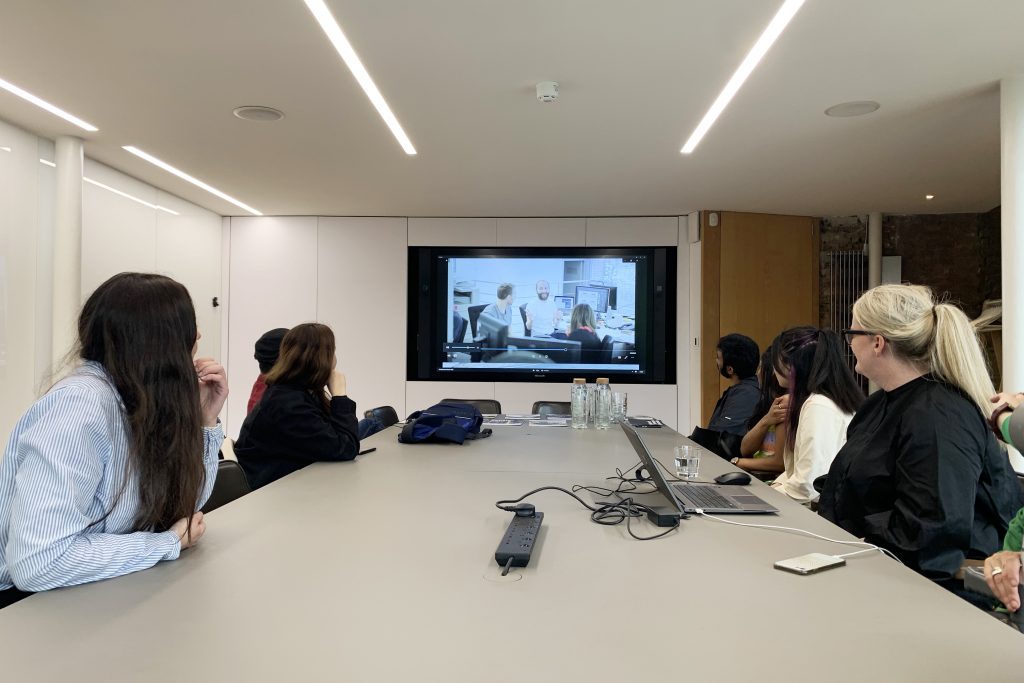 Presentation of Pollard Thomas Edwards Architect main projects
Partner architect Marion Mac Cormick presented us their approach that is founded on placing people first, understanding their needs and designing to suit, emphasising not only the way the buildings and places look, but also on how they are made, how they are used and how they age too.
The studio has earned the respect of their peers too, winning more than 250 awards over the years, with recent wins including BD Housing Architect of the Year 2017, AJ Sustainable Practice of the year in 2018 and British Homes Awards Architect of the Year 2020.
WilkinsonEyre
Founded in 1983 by Chris Wilkinson and Jim Eyre, WilkinsonEyre is one of the world's leading architectural practices with offices in London and Hong Kong and a portfolio of national and international award-winning projects.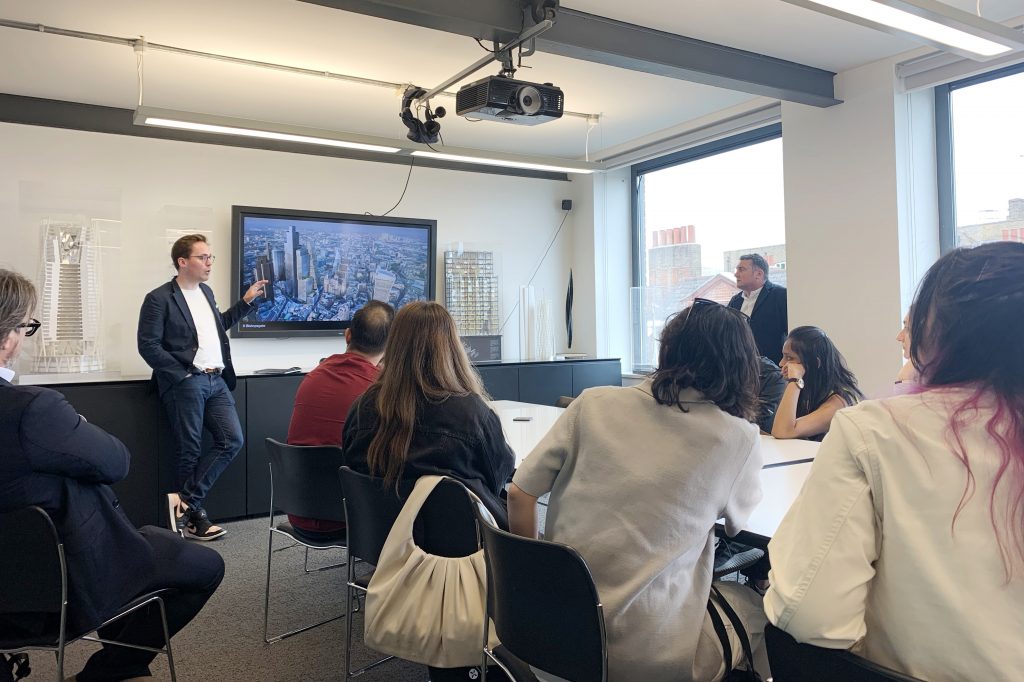 Presentation of the main projects of WilkinsonEyre by Conor Worth, associated architect.
Over the years, the studio has built a portfolio of bold, beautiful, intelligent architecture in sectors as diverse as culture, sport and leisure, education, infrastructure, residential, office and large-scale masterplanning.
Associate architect Conor Worth and Head of Communications James Hulme led the tour and the presentation of the practice.
Project highlights include Guangzhou International Finance Center – one of the tallest buildings in the world; the giant, cooled conservatories for Singapore's Gardens by the Bay; the restoration of Sir Giles Gilbert Scott's Battersea Power Station; the acclaimed temporary structure of the London 2012 Olympic Games Basketball Arena; the Weston Library of the University of Oxford; the new station on Liverpool Street for the recently opened Elizabeth Line railway in London; the new homes created by historic gasholders in King's Cross, London.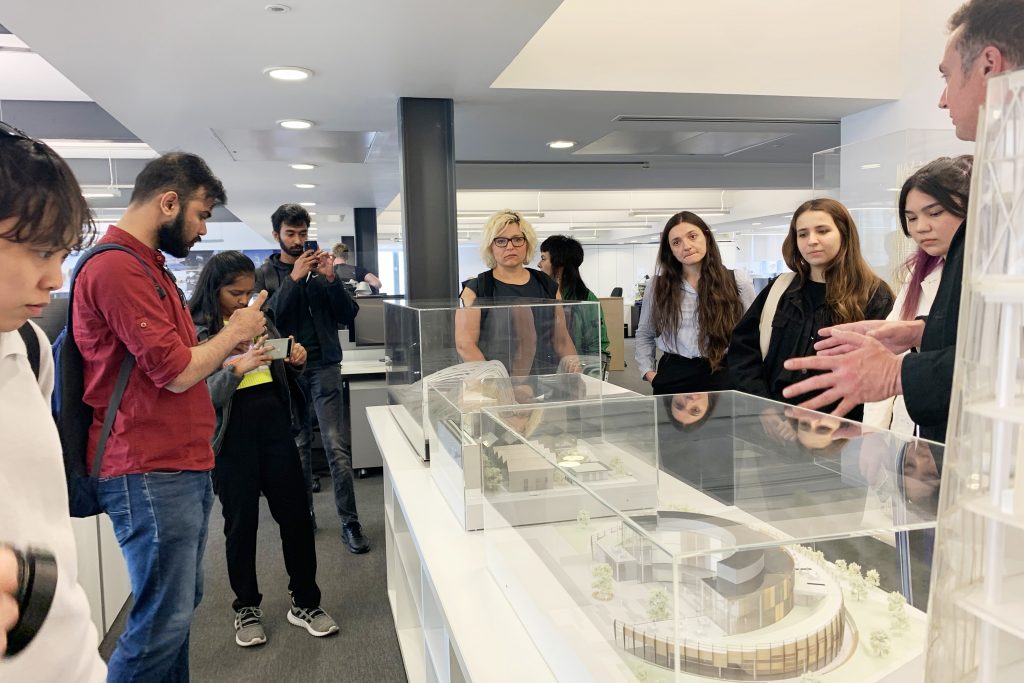 WilkinsonEyre tour with Conor Worth and James Hulme.
The work is based on an informed use of technology and materials and combines a commitment to the spirit of the new with an awareness of context.
This approach has won the practice numerous awards, including the prestigious RIBA Lubetkin Prize for two consecutive years, the RIBA Stirling Prize for Architecture in 2001 and 2002, 50 RIBA Awards, 37 Civic Trust Awards and 12 Structural Steel Awards. Seven of their projects have received Millennium Product status, and nine others have won or been praised for the British Construction Industry (BCI) Awards.
This first participation at the London Festival of Architecture 2022 was really interesting both for us and for our partner in London, Forza Projects, who accompanied us during the tour and in the business meetings on the next day.
"Two very interesting days with the opportunity to learn more about world-famous projects from prominent architectural firms and having the great opportunity to introduce to them the Valcucine's sustainable mission and products. Architectural and interiors projects need this integrated and sustainable approach thinking about the project/product at the end of its life cycle from the very early stage of its conception" said Eve Turner, Showroom Manager at Forza Projects.
"I was lucky enough to join the practice tours alongside Valcucine and Archivibe, during the London Festival of Architecture. Feeling inspired by the projects presented, both past and future, but also gaining a clear understanding of practice's ethos and their direction to the future of architecture" said Roberto Fracassi, UK Export Manager at Valcucine.