ADOM-STUDIO, a multi-disciplinary Architecture and Desing Office based in Madrid and founded in 2017 by Marta Susino and José María Peláez-Campomanes, in collaboration with our spanish partner Valcucine Madrid | Estudio Kroma, designed a minimalist and modern project of a open plan kitchen with island in Madrid, Spain.
The house, located in the capital neighborhood of Los Jerónimos at the southeast of the city centre, was originally subdivided and dark. The architect main objective, for the restoration project Alfonso XII was instead to provide natural light to the house, creating open spaces facing the landscape.
The interior layout revolves around a central living area, with sleeping quarters positioned at either end. The materials utilized in the house include oak, steel, and concrete, which create a striking contrast against the intricately designed custom carpentry specific to the project.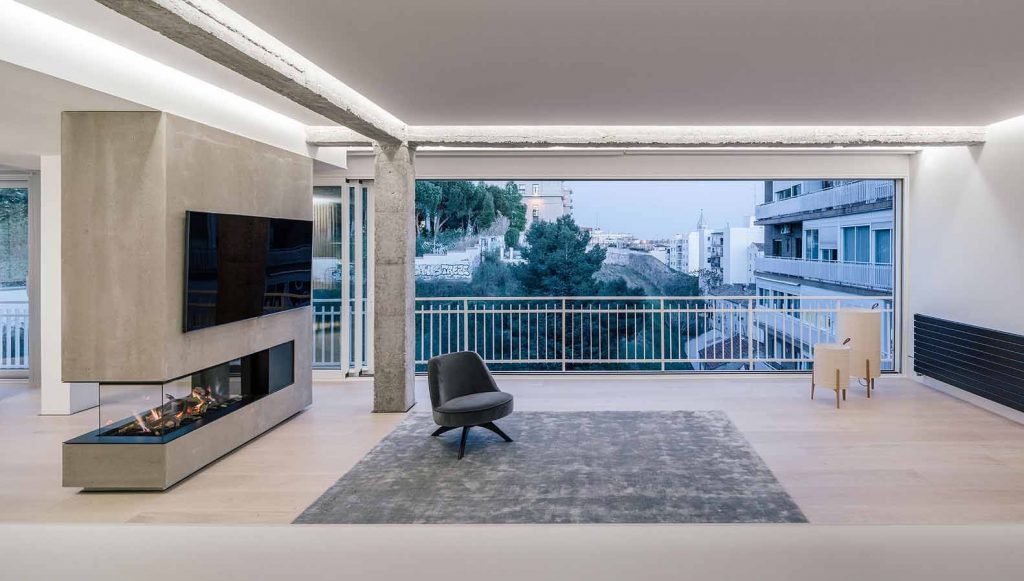 To maximize the open space within the house, a perimeter structure is constructed, leaving two distinct elements that harmoniously balance each other: the kitchen island and the fireplace.
Consequently, along the perimeter, a black steel and natural oak shelf encases and enhances the main area of the house.
The open plan kitchen with island becomes here the focus point of the project.
The choice of the architects was to integrate the kitchen into the living space and create an open-plan living environment with an open kitchen.
Air Logica system in Textile Vitrum finish
In this project the focus is on our Artematica kitchen model, with refined and elegant glossy white glass finish. A colour that expresses extreme elegance and cleanliness, just as it is intended to do in the rest of the appartment.
Everything is then enriched by the Textile Vitrum finish that is chosen by the designers for the special element Air Logica.
Without compromising the elegance, kitchen technology and functionality stand out here in our Air Logica system: when shut the large door conceals the equipped back panel, which is accessorised to meet the user's requirements with sections dedicated to organising the kitchen.
The intervention is further enhanced by meticulous lighting techniques. The exposed concrete beams are accentuated by indirect lighting, while the shelf is adorned with subtle lines of light that accompany its form.
Additionally, the fireplace is illuminated at its base, creating a sense of weightlessness and giving the impression that the chimney is floating within the space.
The result of the design approach is a transformed living space that harmoniously combines natural light, open layouts, contrasting materials, and carefully crafted custom elements.
Photography: Imagen Subliminal (Miguel de Guzmán + Rocío Romero)