On Tuesday, November 14, 2023, at 6:00 PM, we will be present at Abitare Green by Cult Lab Torino, curated by Il Giornale dell'Architettura and communicArch, at Green Pea, to discuss about sustainable architecture and design.
Daniele Prosdocimo, Marketing Manager at Valcucine together with Fabio Basile (Studio Marco Piva), Marco Bonanno (Land), Andrea Cassi (Carlo Ratti Associati), Paolo Lioy (Whirlpool Italia), Gianni Mollo (Piuarch), Tiziana Monterisi (RiceHouse), Michele Pascucci (noa*), Cristiana Ruspa (Giardino Segreto), Elena Stoppioni (Lombardini 22) will talk how research for sustainabilty contributes to corporate innovation and how this process is perceived and transmitted to the public and professionals.
Cult Lab is an interdisciplinary space, created to discuss architecture and open to every creative and cultural stimulus. It is a space designed to gather ideas and people, to welcome and develop projects, to generate experiences, a place for work and socializing.
Architects, urban planners, designers, companies, and startups, along with landscapists, will guide innovation through projects that promote energy efficiency, reduce waste, and integrate natural elements into our residences.
They will illustrate how green areas and outdoor spaces can synergistically merge in urban communities, enhancing the quality of life and the connection with nature. Astonishingly aesthetic solutions will be presented, combining with ecology and demonstrating that design and sustainability can harmoniously coexist. These solutions incorporate ecological materials and intelligent technologies to create cutting-edge green homes.
The history of Valcucine demonstrates how a focus on sustainability has been an integral part of the company's identity since its foundation in 1980. For over forty years, the pursuit of a responsible development model has made projects, insights, and solutions possible. In a perspective of continuous improvement, respecting the environment and humanity, Valcucine has revolutionized kitchen conventions, representing true milestones.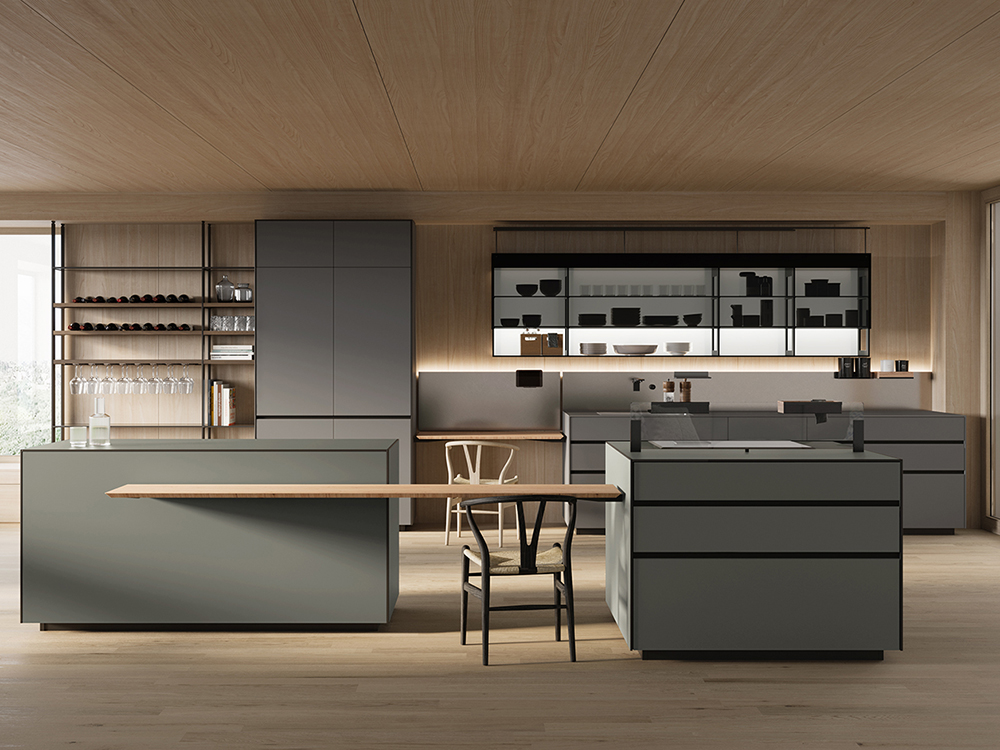 We have recently published Ecosophìa, a new catalog where we envisioned our kitchens in sustainable and innovative domestic contexts. These contexts represent the forefront of contemporary architecture, including wooden architectures, vertical forests, passive houses, LEED certified buildings, residences integrated into nature, and requalified historic spaces. They serve as a constant source of inspiration for a better future.