There is no dividing line between creativity and innovation, between the art of playing with colours and materials and the art of pure volumes our iconic kitchen named Artematica.
As already annunced in our catalogue "ECOSOPHÌA-The sustainable architecture and kitchen design collection" we have decided to imagine our kitchens installed in sustainable and innovative homes, in contexts that represent the new frontiers of contemporary architecture.
In our imagination, Artematica is included as part of a sustainable architecture context typical of a Passive House, architecture focused on low energy consumption and high living comfort.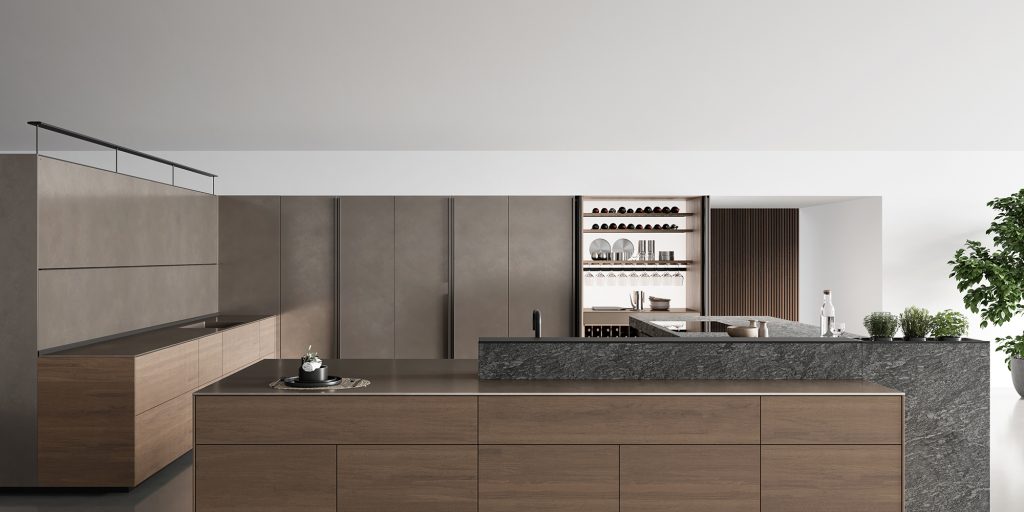 Artematica is an iconic kitchen produced in 1988 and continuously updated ever since.
Thanks to its very innovative contents, it has become a fully-fledged part of the history of design. This project is a perfect balance between "Art", i.e. the pursuit of beauty, harmony, form and proportions, and "Mathematics" in terms of rationality, precision and technology.
The design philosophy of Artematica stems from an architectural view of space in which pure volumes intersect and blend, enhancing the diversity of materials and the sophisticated interplay of solids and voids.
Sculptural elements boldly give rise to a passion for materials: stone, wood and metal communicate with each other, in line with the principle of harmonising diversities by which Valcucine has always been inspired.
Our intuition, the possibility of using "pure", unpaired materials on the aluminium structure of the doors, opens up to infinite solutions and combinations.
From the refined play of glass, in every colour and finish, to woods with strong tactile sensations, from lacquered surfaces to metal laminates. The expression of each customer's personal taste becomes eternal, until it reaches the uniqueness typical of a work of art, represented in the transparency of glass.
This iconic kitchen has been studied in detail to make gestures simpler and more casual, closures soft, and to comply with the highest safety standards through rounding along edges and profiles.
The expressive synthesis of the tension for innovation is here expressed in New Logica, with its upper lift-up doors and the downward sliding doors opening and shutting gently to reveal all the accessories of the back panel, a patented element that can be equipped to meet any user's requirements.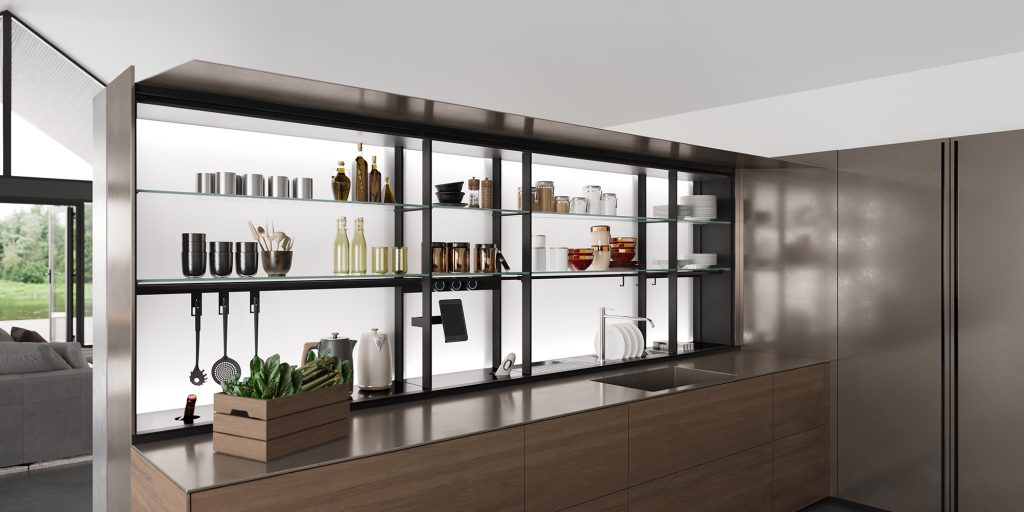 From the continuous search for a design aimed at enhancing ergonomics in the kitchen, the equipped channel evolves, presenting itself in Logica Theca as a containing element is shut by a single door and is perfectly integrated with the worktop. It can hold small kitchen utensils, containers and much more.
A light touch of the hand automatically and noiselessly opens the whole door thanks to a brilliant mechanism based on the force of gravity, making its contents fully visible and ensuring immediate access
to them.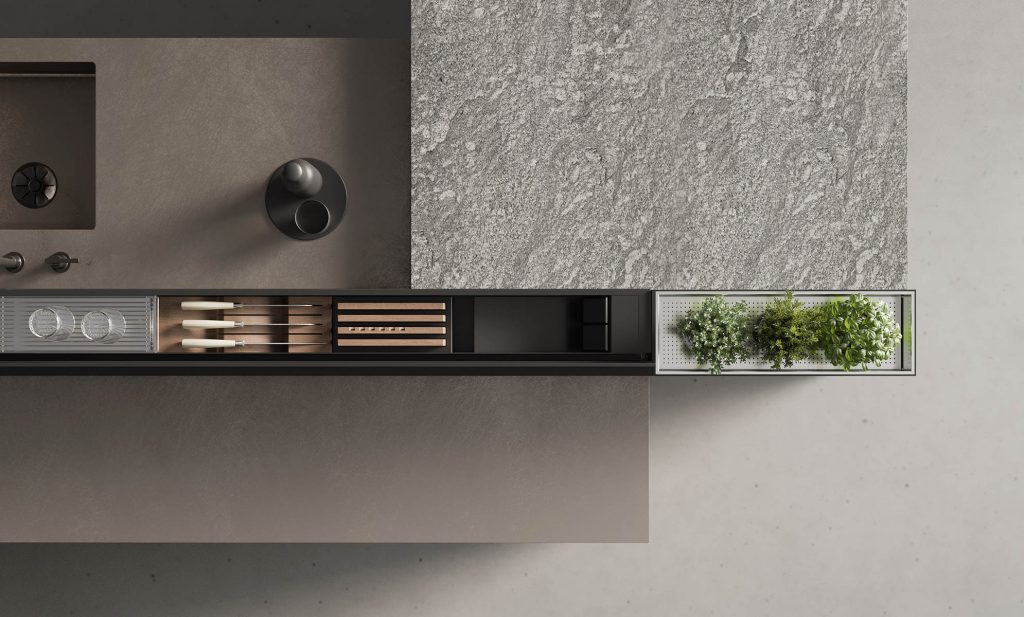 The harmony and functionality intrinsic to Artematica are completed in this configuration with the tower units with receding doors.
Thanks to a patented mechanism that guarantees flowing, silent movements, once open the door disappears along the side of the cabinet, revealing its content.
A large and functional space contains all the tools required for impeccable wine service. In addition to a shelf in stainless steel – a material that stands out for its resistance, hygiene and easy-to-clean properties – the inside of the cabinet is provided with a stemware rack and a wine rack as well as a space to install a wine cooler.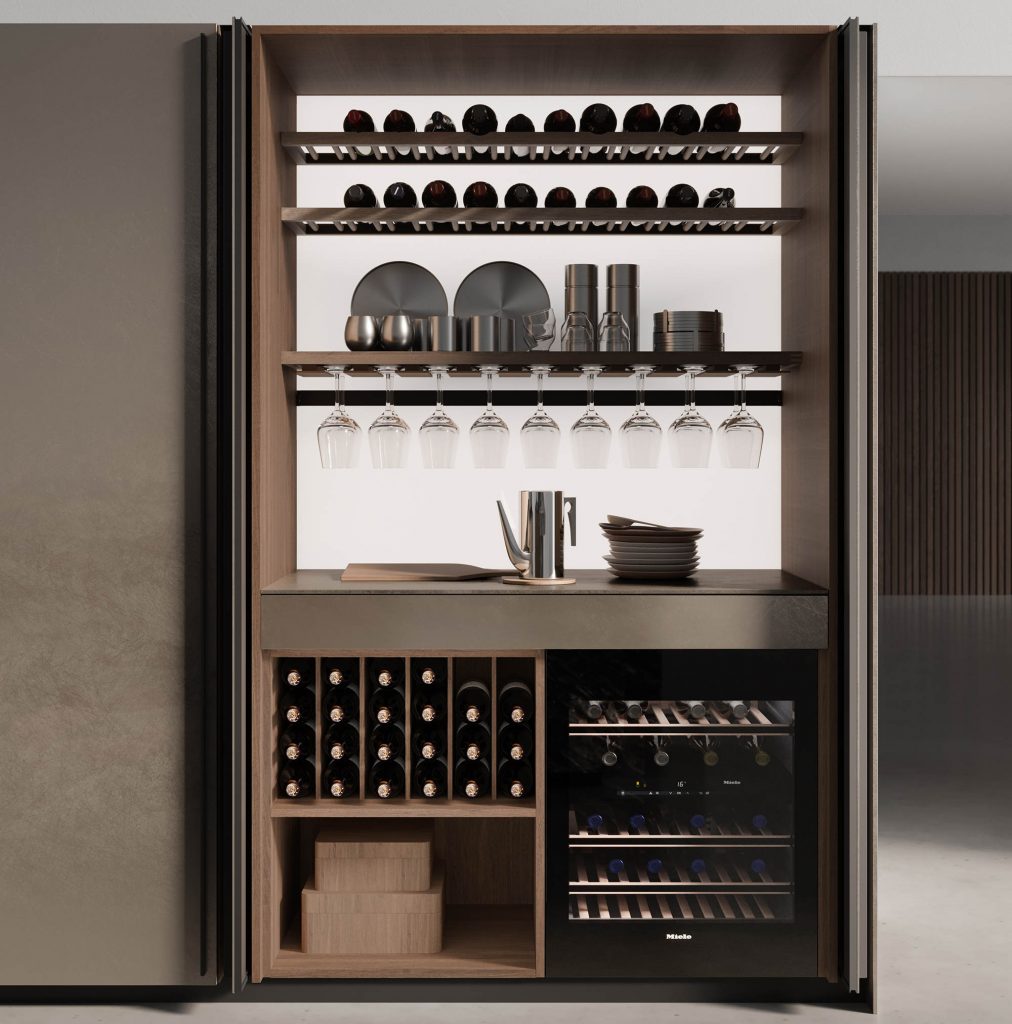 The setting is enriched finally with the drawer containing dedicated accessories and a module designed to store wine bottles at room temperature complete the cabinet. Everything is within reach.
Read more about our iconic Artematica kitchen in our catalogue: