Share
The choice to integrate the kitchen into the living space, to insert a bar at home, or to create an open-plan living space with an open kitchen is becoming increasingly popular.
Logica Celata, launched on the market in 2019, presents itself as a large equipped wall that, when closed, transforms into an elegant piece of furniture designed for complete integration with the living space.
A sculptural volume of great suggestion that combines beauty and functionality, and that through customization with Vitrum Arte offers the possibility to create a unique and personal kitchen or living area.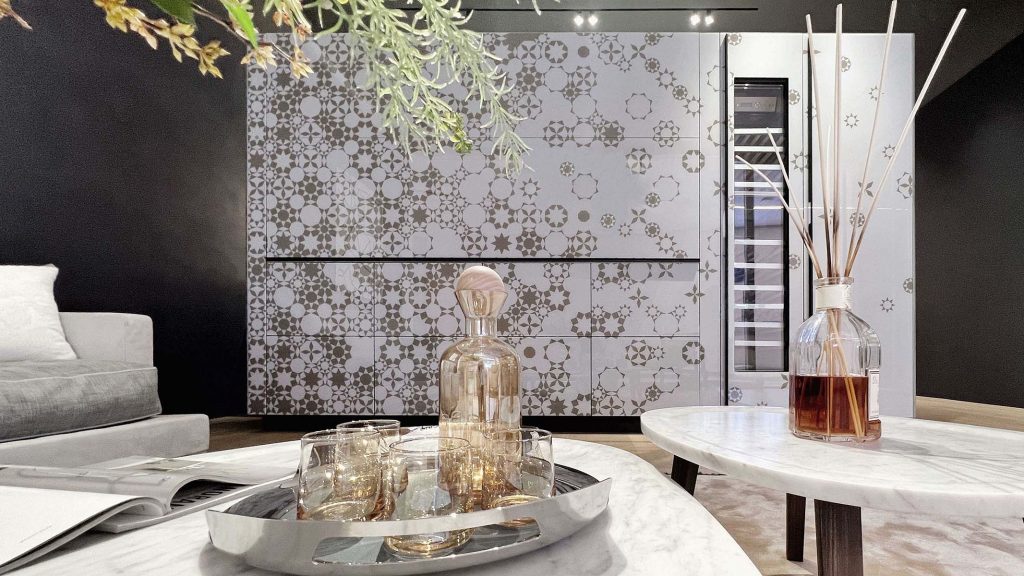 In recent years, we have also witnessed a real renaissance of cocktail culture, which has conquered bars all over the world.
More and more people have become passionate about the world of cocktails. Experimenting with ingredients, measuring doses precisely, and skilfully mixing have become appreciated and sought-after skills.
And more and more people are looking for this moment of tasting in a private dimension, so the ideal solution is to bring the atmosphere of the cocktail bar to their own homes, creating a bar corner dedicated to mixology.
Valcucine understood the trend some years ago and presented its innovative solution by introducing Logica Celata in the bar version. Our proposal of bar at home evolves the functionality of a high-quality kitchen into an elegant home bar area, offering mixology enthusiasts the opportunity to create unique cocktails in the comfort of their living room.
The Logica Celata door also opens in the bar version, revealing the new Valcucine home bar, practical, well-organized and complete with all the necessary tools to enjoy wine impeccably, mix the ingredients of a good cocktail, and prepare a quality coffee. Served as a connoisseur.
Valcucine's Logica Celata, in the bar at home version offers a series of features and advantages that make it unique.
Firstly, the clean and minimalist design adapts perfectly to any style of furnishing. The work surface transforms into an elegant bar counter, complete with sink and preparation area. The hidden compartments open to reveal a wide range of mixology accessories, such as shakers, bar spoons, sieves and much more. In addition, Logica Celata also includes a customizable lighting system, which creates a suggestive atmosphere for moments of conviviality.
Thanks to Logica Celata in the luxury bar version, cocktail enthusiasts can enjoy the bar experience directly in their living room. Hosting friends and family becomes an opportunity to show off their skills in the art of mixology, offering personalized and delicious drinks. In addition, having a home bar allows you to experiment with new recipes and ingredients, creating unique and original combinations.
Share