"Sought After" project, with its open kitchen living room, emerged due to the need for restructuring the internal space and addressing structural concerns linked to the aging building located in the heart of Milan.
AIM Studio, which have followed the entire renovation project, deliberately kept from the previous residence, the original load-bearing wall that previously separated the living area from the bedrooms. Indeed, it continues to mark the division between the two main areas of the house.
"Nevertheless, the entire floor plan has been reconsidered to harmonize with the preferences of the new inhabitants." says architect Claudio Tognacca, owner of AIM Studio.
The layout of the kitchen, entirely designed by our Milanese partner Valcucine Milano Brera | Spotti, has been seamlessly incorporated into the living room, maximizing space usage.
A notable decision was taken for the kitchen, featuring a distinct, solid monolithic structure crafted from burnished steel plates. Conventional kitchen wall units have been swapped out for a Carrara marble shelf. This addition not only enhances the aesthetic of the room but also evolves it into an artistic installation.
Aside from the 2 mm thick door, Riciclantica showcases a grip recess that extends across the surfaces of the base unit, underscoring the quest for ultimate dematerialisation and making the door's extraordinary slimness distinctly apparent.
Precise attention was also given to the selection and blending of materials: Stainless Steel Metal, Black HPL Laminate (by Fenix) and Carrara Marble.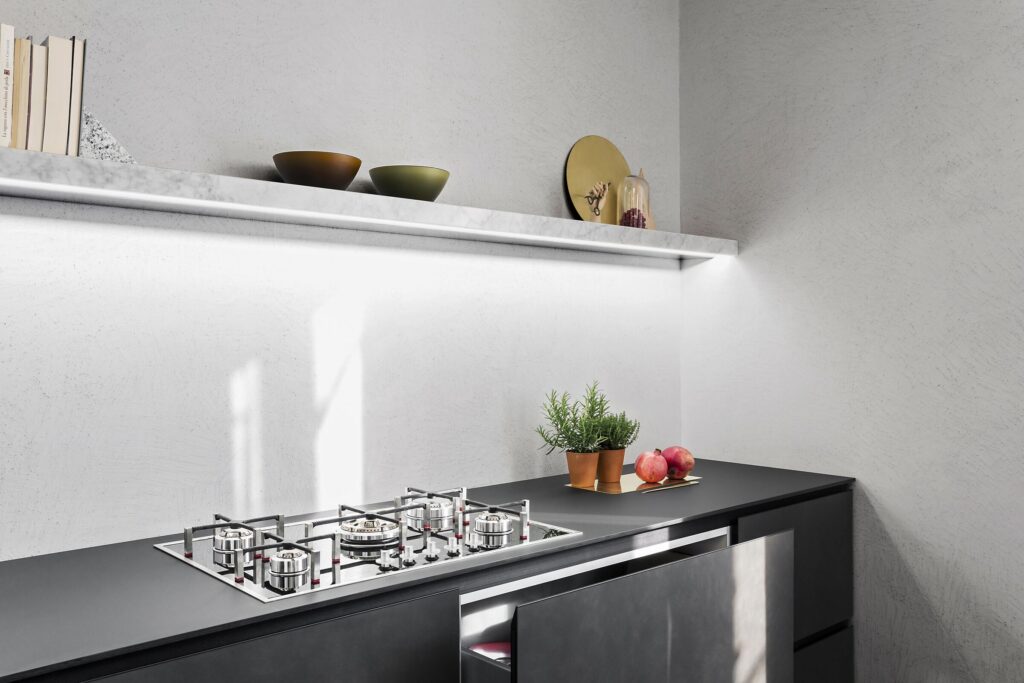 The interplay between marble, burnished steel, and a unique cement-like finish produces a coherent visual and perceptual harmony throughout the hallway, kitchen, and living room spaces.
This design selection effectively separates and sets them apart from the sleeping quarters.
The bathroom underwent a careful transformation, evolving into a haven of well-being. Opulent finishes and spaciousness define this zone.
Rather than being concealed by a conventional door, the bathroom now seamlessly interacts with the living space and the rest of the apartment, thanks to a built-in resin partition.
Finally, a discreet, pivoting hinge door discreetly separates the bedroom from the rest of the apartment. Within this bedroom, there is an expansive walk-in closet, featuring walls made up of panels capable of rotating up to 360 degrees.
These panels can be fully opened, facilitating ample natural light while simultaneously functioning as both dividers and ample storage compartments.