Aesthetic cleanliness and user-friendliness in the warm high-end kitchen called Forma Mentis. The shape of the doors, constructed with sloping edges, is designed to facilitate grip and opening without handles. The edge-saving metal profiles also contribute to increased durability.
Expressive energy and distinctiveness are in perfect synchrony: it is possible to characterise the aesthetics of the kitchen through the choice of the thickness of the top, the type of groove, the profiles with different colour solutions and their combinations.
The Forma Mentis composition is characterised by formal simplicity in the kitchen and minimalism of lines, contributing to a clean and elegant whole.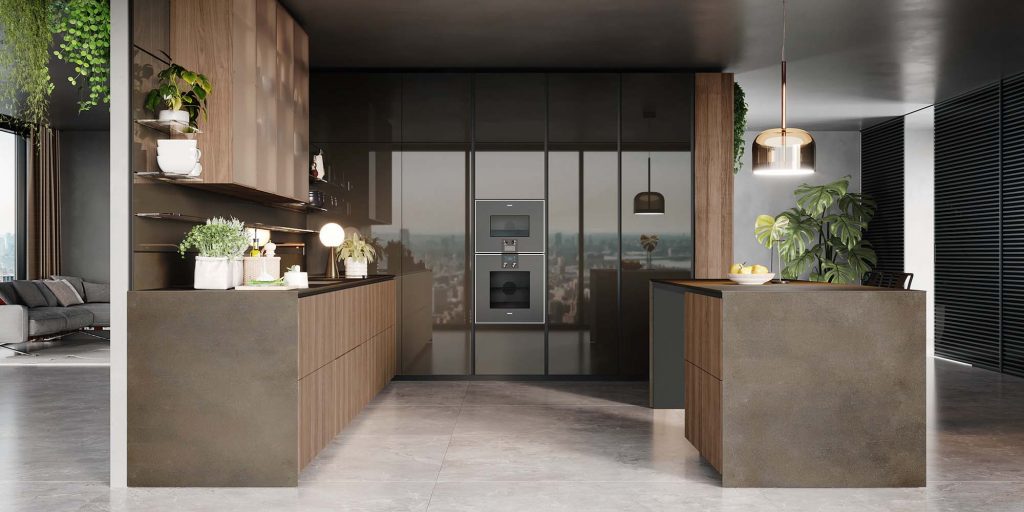 In Forma Mentis, everything contributes to creating a design layout where natural elements and technological solutions are integrated in a harmonious whole, allowing the kitchen to form a strong bond with the natural environment in which it is inserted.
Exactly in this harmonious and natural context, we imagined our icon of simplicity in the kitchen Forma Mentis in our Ecosophìa catalogue within a sustainable architecture in a biophilic house.
This design consists of embracing the rules of architecture with rooms that benefit from good natural light, colours that recall the tones of nature and the widespread use of green plants.
Through biophilic design, spaces are created in perfect harmony with nature.
Plants improve air quality by absorbing mould, pollutants and toxins, release water vapour into the air and reduce sensitivity to allergens and respiratory diseases. Plants can reduce stress and convey a feeling of peace and relaxation.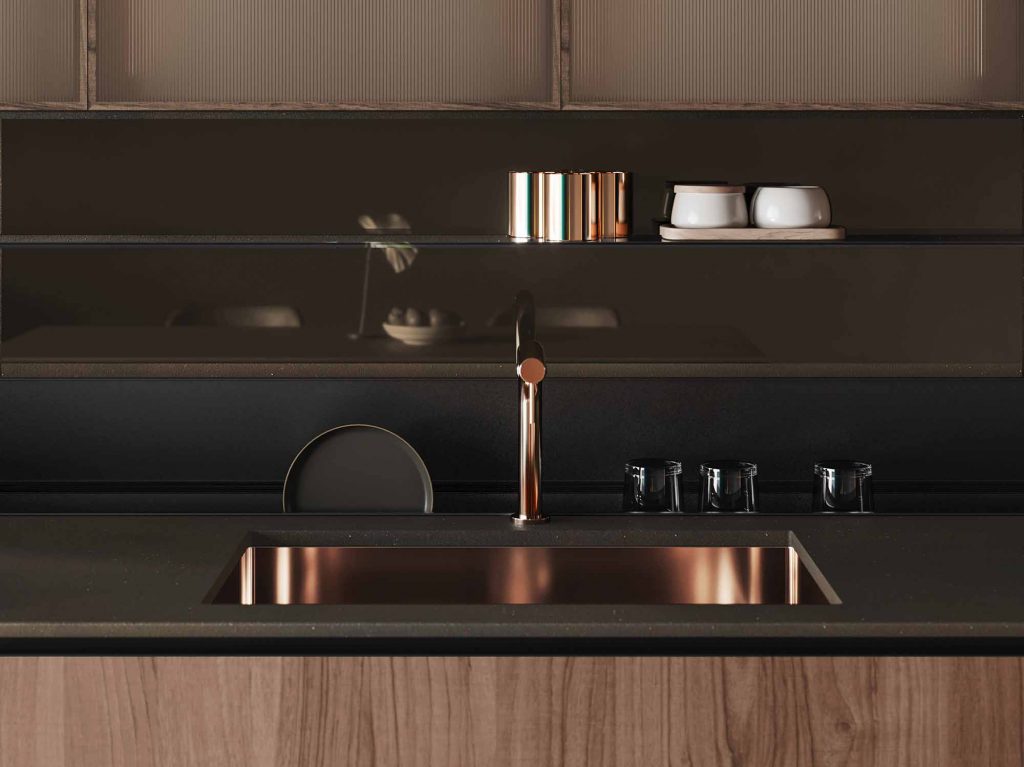 Without renouncing operability, tools, functions and accessories are entrusted to large storage walls, dedicated boiseries and the Logica Theca equipped channel, being perfectly concealed.
An upgraded version of our equipped back section, this storage element is shut by a single door and is perfectly integrated with the worktop. It can hold small kitchen utensils, containers and much more.
A light touch of the hand automatically and noiselessly opens the whole door thanks to a brilliant mechanism based on the force of gravity, making its contents fully visible and ensuring immediate access to them. The inside of this module can be customised by means of a set of accessories designed to meet various requirements.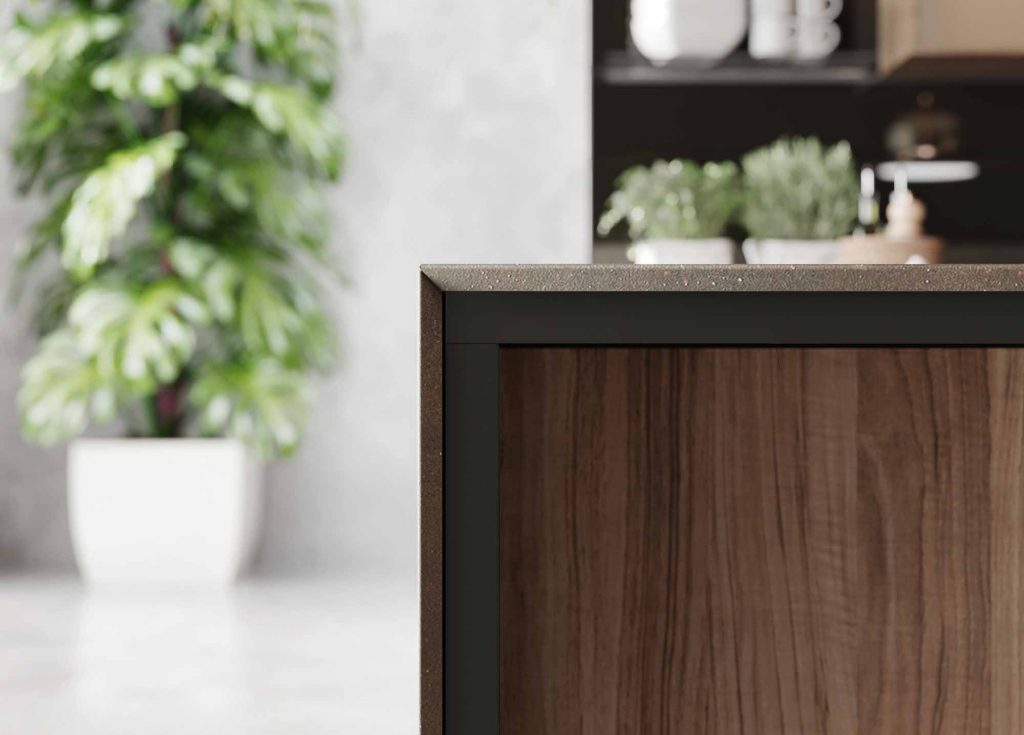 The particular design of the Origami breakfast bar, on the other hand, conveys additional lightness and functionality to the composition.
Inspired by the ancient eastern art of paper folding, the Origami breakfast bar is a sculptural element
with a strong presence. The special workmanship adopted delivers a top and support with the same finish for an extremely sturdy yet light result.
The Origami breakfast bar is elegant in its simplicity and can be used for breakfast or for quick meals
as well as being an alternative to the traditional table. It can even become an additional work surface that
can accommodate a hob.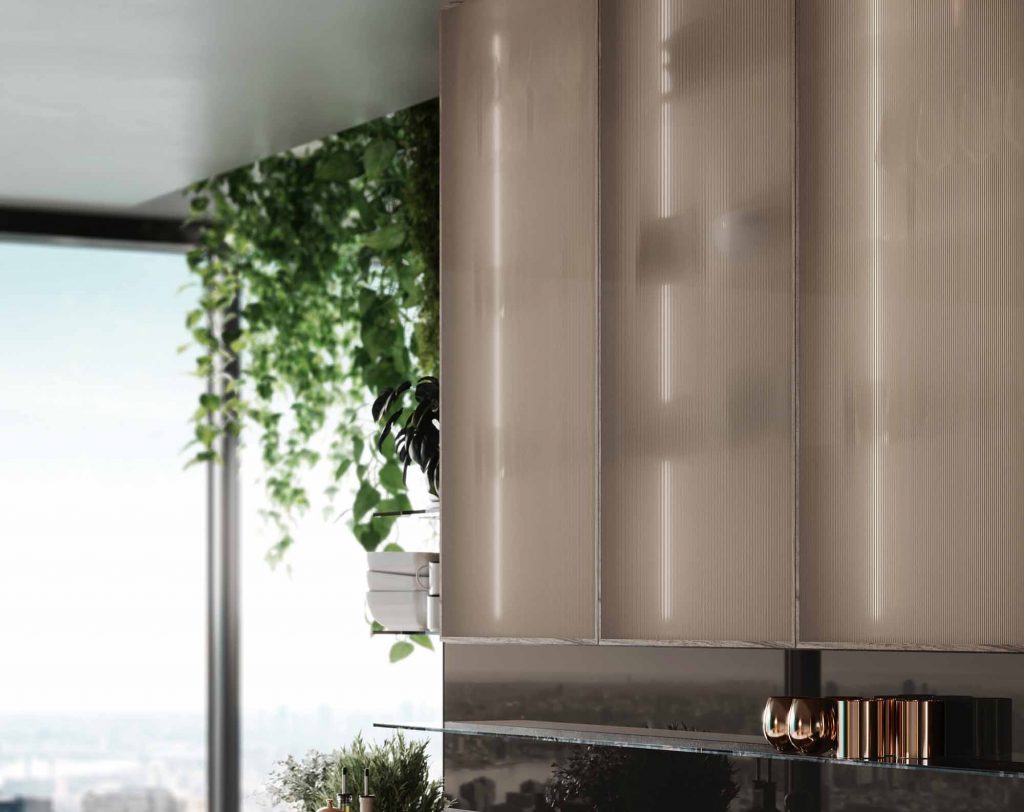 Finally, the latest special elements presented and proposed in this composition create a perfect blend of design and function: with this Black Flamed Walnut solid wood wall unit Valcucine redesigns the traditional glass display cabinet using clean lines and refined aesthetics.
The solid wood carcass accommodates a glass door distinguished by a play of transparencies that offers
a glimpse of the inside.
Wood adds warmth to any room, relaying the ancestral tactile sensations typical of an age-old material
that is still alive in our biological memory, while glass conveys a feeling of lightness.
The result is a warm high-end kitchen with a great aesthetic impact which is even more evocative thanks to the interior lighting that enhances the accuracy of every detail.