Located in the northern part of Bogotá, in one of the city's most exclusive residential areas, Aitkenstudio has developed a 290m2 apartment with a modern kitchen designed by our Colombian partner The Architektur.
The inspiration for this project was to create a design that exudes warmth and hospitality, offering a quiet surroundings reflecting the essence of the family.
The apartment's interior combines luxurious materials such as wood and natural stones, resulting in a harmonious space. As you step into the entrance hall, you're immediately captivated by the inviting charm of the walnut wood flooring, emanating an atmosphere of elegance and comfort.
To complement this aesthetic, a captivating marble floor design featuring accents of bronze and aluminum gracefully extends into the kitchen area, creating a seamless transition. The rest of the apartment boasts a stunning chevron pattern oak wood floor, adding a touch of timeless charm to the overall ambiance.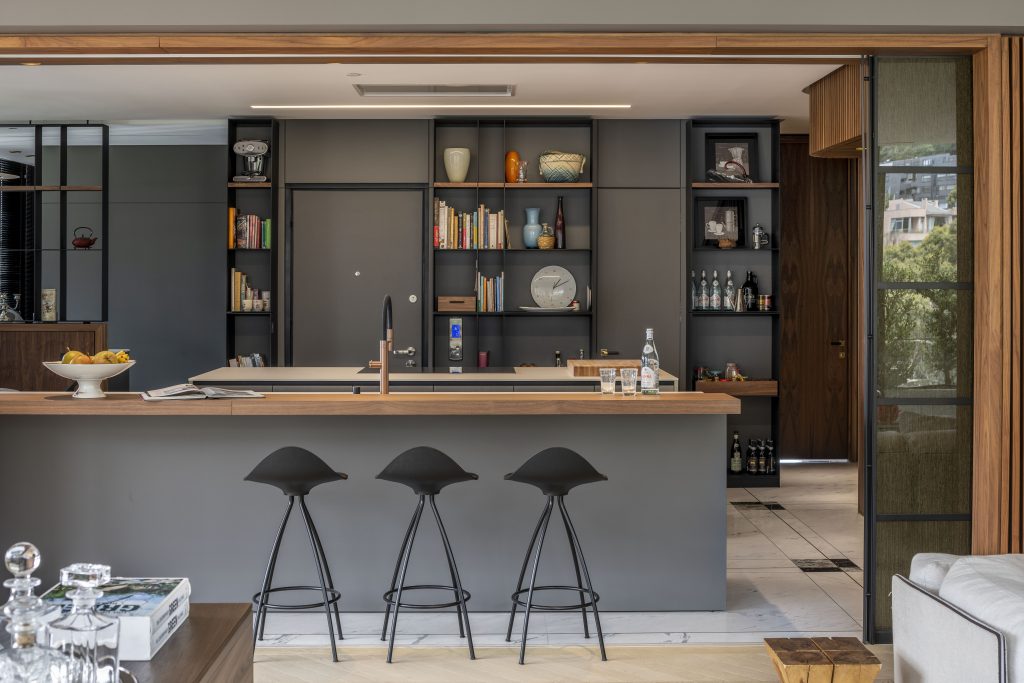 The desire for an open and spacious social area is reflected in design decisions such as opening the kitchen to the social area with a sliding door made of glass and silk, which, when folded, integrates it completely with the dining room and living room.
The sliding door separating it is 6 meters wide and is made of glass and silk. Its floor exhibits the same materiality as the entrance hall, maintaining that guiding thread that ties the entire design together.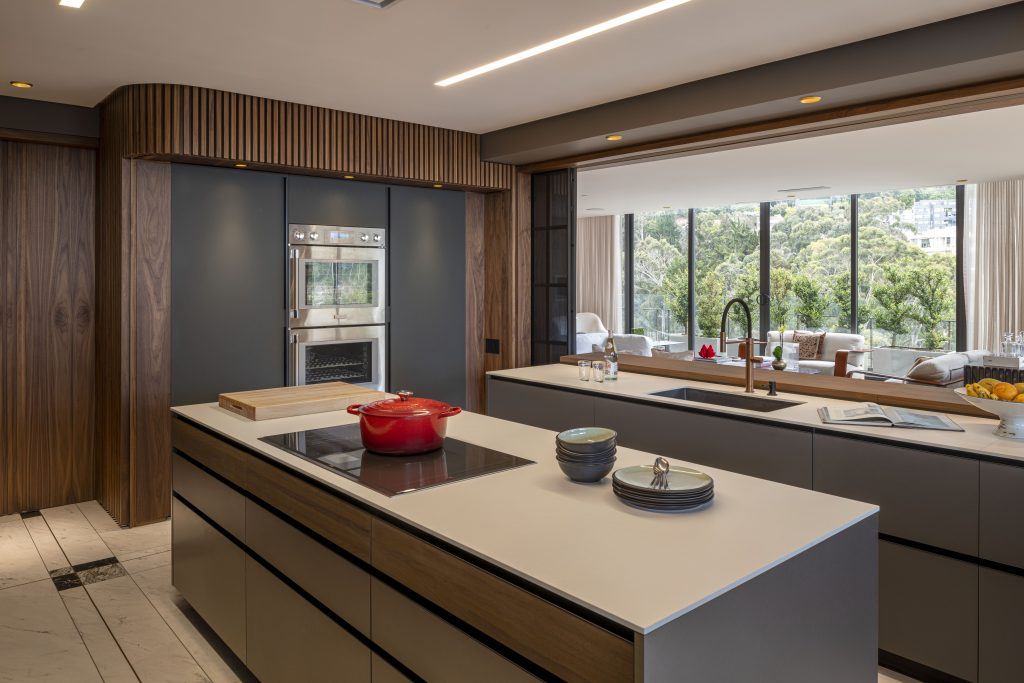 At the heart of the space, Forma Mentis, in an harmonious combination of Angel Skin finish and steel tones is taking the center stage.
This design marvel incorporates a diverse range of materials, including glass and high-pressure laminate, harmoniously coming together to create a visually stunning environment.
To add an element of warmth and natural beauty, a breakfast bar fashioned from natural walnut wood graces the space. The incorporation of these carefully selected materials produces an extraordinary centerpiece within the kitchen area, captivating the eye and enhancing the overall aesthetic appeal.
To maximize storage functionality, a meticulously crafted library was seamlessly integrated, acting as a defining element that infuses the space with personality and character.
In the private area, three bedrooms, each with its own bathroom and walk-in closet, revolve around a family room that includes a home theater, a small auxiliary dining area.
The terrace was finally conceived as another great outdoor gathering space, enhanced by the design of a natural garden with a fully grown tree as the centerpiece.
The terrace was finally conceived as another outdoor gathering spot, adorned with the beauty of a natural garden. Taking center stage is a majestic overgrown tree, serving as the focal point of the design.
Carefully curated and meticulously arranged, the garden elements create a quiet and inviting outdoor oasis. Whether for relax or socializing, this thoughtfully designed space invites residents and guests to embrace the peace and beauty of nature.
Photo credits: Iván Ortiz